Sir Chris Hoy MBE
Multi Olympic champion track cyclist and the UK's greatest Olympian of all time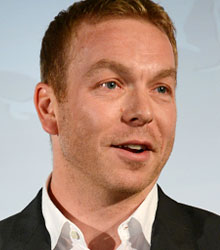 About
The first Briton since 1908 to win three gold medals in a single Olympic Games, Sir Chris Hoy is the most successful Olympic male cyclist of all time.

Sir Chris Hoy MBE, multiple world and Olympic champion track cyclist, was born and raised in Edinburgh and has been competing in various sports since the age of seven. He raced BMX until he was 14 years old, becoming Scottish Champion and ranking second in Britain and ninth in the world.

Chris also rowed and played rugby for his school, George Watson's College, throughout his teenage years. He rowed for Scotland as a junior, winning a British Championship silver medal in the Coxless Pairs.

As a senior, Chris Hoy turned his attention to track sprint cycling and in 1992 he joined his first cycling club in Dunedin. Two years later he joined The City of Edinburgh Racing Club, the most successful track club in Britain, and since 1996, the 36-year-old has been an integral member of the Great Britain National squad. He won his first world medal in 1999 - a silver in the Team Sprint – and has won 11 world and two Commonwealth titles to date.

Chris Hoy won his first Olympic gold medal in Athens 2004 in the Kilo - an event that was dropped from the programme for Beijing 2008. Chris took this in his stride and switched his focus to three other track sprint events – the Keirin, Sprint and Team Sprint. He went on to win a gold medal in all three at the Beijing Olympics, cementing his name in the history books.

As well as his sporting achievements, Chris has a BSc Honours in Applied Sports Science from the University of Edinburgh. In 2005 he was awarded two Honorary Doctorates - one from the University of Edinburgh and another from Heriot-Watt University. He was also awarded an MBE in the New Year Honours List. In 2009 he was awarded an Honorary Doctorate from the University of St Andrews.

Following his historic hat-trick of gold medals at the Beijing Olympics, Sir Chris Hoy was voted 2008 BBC Sports Personality of the Year. He was also awarded a Knighthood in the 2009 New Year Honours list, capping an extraordinary year for the track cyclist from Edinburgh.

In 2012 at his home Olympic Games in London, Chris won his fifth and sixth gold medals - in the Keirin and Team Sprint - becoming Great Britain's most successful Olympic athlete of all time with six gold medals and one silver.

Sir Chris Hoy's achievements throughout his career make him Scotland's most successful Olympian, the first Briton since 1908 to win three gold medals in a single Olympic Games, and the most successful Olympic male cyclist of all time.
Speech Topics
Marginal Gains In Business
In his highly motivational and engaging presentations, Sir Chris Hoy talks through the 'marginal gains' strategy which he credits for much of his Olympic success. Based on the now-proven theory that marginally optimising every possible area for improvement will result in profound progress, it's a strategy that can be translated to any business sector.
Books and DVDs
Below you'll find products by Sir Chris Hoy MBE which may be available for purchase. Click the image to view on Amazon's website. Clients often like to purchase books and other merchandise as autographed give-aways at events where Sir Chris Hoy MBE is appearing. For bulk purchases, please speak with the Booking Agent handling your event.
You may also be interested in...