Archie Manners
The society magician (E4's Look Into My Eyes)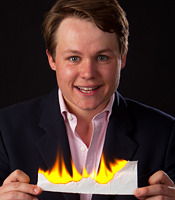 About
Archie Manners has quickly established himself as The Society Magician. Performing for the Royal, the Famous and the Powerful he has the ability to bring something very special to your event.

Archie stars in E4's show 'Look into My Eyes'. This comedic prank show sees Archie deploying his powers of hypnotism to twist the minds of young Brits so that they act in extraordinary ways.

Archie's previous audiences have included most of the Royal Family, David Cameron Brian Moore, Alex Ferguson, Chris Tarrant, Rory Bremner, Jack Dee, Paloma Faith, Ellie Goulding, DJ Fresh, and thousands of other private clients. Performing from Geneva to Guildford, New York to Newbury and Canberra to Chelsea, Archie makes every event that much more special.

A member of the World Famous Magic Circle, you can be assured that Archie Manners will deliver. Whilst many Magicians perform the same tricks with effortless boredom, Archie's aim is to make Magic entertaining. Archie's usual form of magic involves mix and mingling with people, performing close up magic in their hands. Using Cards, Coins, Fire, Sponges, Rope or anything else he can get his hands on he can perform extraordinary things.

Further to that Archie can perform a 20 minute stage show Act, well rehearsed from his run at the Edinburgh Festival in 2012, to compliment his round-the-tables close up magic. This has been phenomenally successful at a variety of larger events.
Testimonials
Archie Manners wowed everyone with his magic.
You absolutely made the party – everyone from 8 to 80 were hugely impressed with your talent – your personality just makes it.
You brought so many clients to our stand at last week's show that I can confidently say that our product would not have been such a success if it weren't for you.
Brilliant. Just Brilliant!
Thank you so much for performing at my birthday party last night. You were simply spectacular, and made the evening.