Chris Cox
Multi-award winning magician and mind reader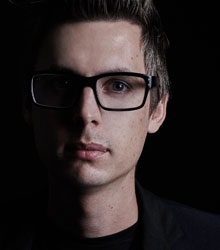 About
Chris Cox is a multi award winning mind-reader who has been seen live by over 400,000 people. His hilarious and mind-blowing mind-reading has made him one of the most in demand corporate performers and it's easy to see why.

Chris is a confident, charismatic and funny performer who will leave your guests speechless as he reads their minds using a mix of magic, psychology, body language, influencing, devilish good looks, and obviously lying. He has starred in the world's biggest magic show 'The Illusionists - Live From Broadway' at Sydney Opera House and as part of their USA, South Africa and World Tour. He also headlined 'Impossible' in London's West End and on their World Tour. He's also written and performed in multiple sell out one-man Edinburgh Fringe Festival shows, solo UK Tours, extended sell-out runs at the New Zealand International Comedy Festival, won 2 Edinburgh Fringe Awards, a Best Comedy Show award and a heap of 5 star reviews.

He has been on your screens with One Direction reading their minds at the BBC Music Awards. He's also appeared on America's Got Talent (NBC), Heston Blumenthal's Recipe For Romance (Channel 4), Now You See It (BBC One), How TV Changed Magic (Channel 5), The Secret Of Star Wars (BBC iPlayer), The Mentalist Revealed (Channel 5), Dick & Dom's Funny Business (BBC 2) and Little Howard's Big Question (BBC 1) not only that but he's also part of a BAFTA nominated team who brought magic to the BBC's ​Merlin.

Chris Cox has performed at Shakespeare's Globe, Latitude and the Reading & Leeds Festivals. He's created magic for Barnum (Menier Chocolate Factory), Dan & Phil's Amazing Tour Is Not On Fire (World Tour, London Palladium & Dolby Theatre Hollywood), Dan & Phil's 2018 World Tour and for Heston Blumenthal and The Fat Duck Restaurant where Chris is a creative consultant. He is the writer and producer of Hugh Jackman's Wolverine The Musical, The Matt Edmondson Show, Dan & Phil's Guide To Happiness and The Story Of Tim Minchin all for BBC Radio 1. Chris also is the Magic & Illusions Assistant for Harry Potter And The Cursed Child Parts 1 And 2 (Palace Theatre, London)

Chris has dazzled corporate clients around the globe hosting events and reading minds in places like as The Hammersmith Apollo for companies such as Virgin Atlantic, O2, Disney, BAT, Thatchers Cider and Allianz.
Speech Topics
Full of expertise, energy, and confidence, Chris Cox delivers a comedic take on mind reading, misdirecting audience, confounding expectations, and leaving them both amazed and entertained. Chris has been doing this for multinational corporations for over ten years.

He can host or emcee your event, offer various keynote speeches and perform incredible on-stage after dinner speeches and entertainment. As the man behind the magic at Heston Blumenthal's Fat Duck and part of the magic & illusions team on Harry Potter And The Cursed Child, Chris is all about delivering an experience like no other.

Mixing the very best of his multi-award winning live act with the sorts of things you'll have seen him do on TV and what you want from your event to deliver an unforgettable performance that engage, entertain and fill your delegates with energy. Full of audience participation this hugely visual form of mind-reading will have your audience laughing away and amazed that Chris knows exactly what they're thinking.

His enthusiasm and cheeky charm will leave your audience on a high remembering what happened to them and their colleagues for years to come. He regularly starts the day for O2's corporate events with twenty minutes of hilarious mind-reading which sets every delegate up for an amazing day leaving them fully engaged and in a great mood for the day to come. Chris' team can provide private video links to live performances from corporate events on request.
Testimonials
Chris was incredible, hilarious and mind blowing. The audience adored him
The audience loved him. He pitched his energy just right and was very sensitive to the energy the delegates brought as he was on quite early each day. They warmed to Chris very quickly and he dumbfounded them and us every time with his mind reading and wonderful tricks!
Chris was the perfect host for the Crumbs Awards. Our guests were amazed, entertained and are still talking about his awesome and funny performance weeks later
From the moment he came on stage right through to the very end of the show, Chris had the audience captivated. Not only does each trick leave you wondering how on earth he did it, but the added comedy element has everyone thoroughly entertained throughout the whole of the act – never a dull moment. He left everyone talking about it for hours after the show – a very hard act to follow!
The client absolutely loved it. We have heard such great feedback you were a real hit! You made us feel very at ease, and it was so brilliant to weave in so many brand-appropriate elements to the show. Thank you for your hard work and focus in making this spot on
Chris was fantastic! Made the audience laugh and had some brilliant tricks! Some feedback I have been given already: "Thoroughly entertaining", "Very surprising", "Dazzling display of comic genius and magical prowess"
Chris went down really well…he was brilliantly well received
Amazing, we've had such great feedback. Everyone loved him