Chris Cox
Multi-award winning magician and mind reader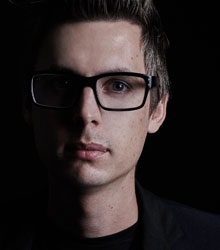 About
Chris Cox is a multi-award winning mind reader and is according to The Guardian 'one of the most exciting entertainers in Britain', Time Out thinks, 'he does tricks that would make Jesus proud' and that 'he's loveable, geeky & deceptively talented.'

He is a unique force when it comes to mind-reading entertainment. With a string of accolades under his belt including 5 sell out Edinburgh Fringe shows, 4 UK Tours, 3 West End Shows, 2 extended sell out runs at the New Zealand International Comedy Festival, a heap of 5 star reviews, 2 Edinburgh Fringe Awards, a 2011 Best Comedy Show award and numerous TV and Radio appearances.

The self proclaimed mind reader who can't read minds is an accomplished and much loved performer, using a mongrel hybrid mix of witty chit chat, magic, psychology, body language, influencing, devilish good looks… and lying, he makes you think he knows what you're thinking. All this helps him to produce a highly-entertaining and very funny cutting edge show that'll make you say the wow word.

He's popped up doing tricks on BBC Radio 1, has been on your screens on Killer Magic (BBC3), Heston's Recipe For Love (C4) The Mentalist Revealed (C5), Dick & Dom's Funny Business (BBC 2) and Little Howard's Big Question (BBC 1) not only that but he's also part of a BAFTA nominated team as the man who brought magic to bbc.co.uk's Merlin. He lectured to his peers at the 2011 & 2012 International Magic Convention and will toured the multi 5 star award winning narrative mind reading show, Fatal Distraction throughout the world in 2014. Other than writing his stage shows he has also written for The Times, Mr & Mrs Smith, Cosmopolitan and Virgin Atlantic.

In 2015 Chris starred in Impossible, the biggest magic show in decades, which thrilled audiences in London's West End at the Noel Coward Theatre it then went on a UK tour in Spring 2016.
Speech Topics
Chris Cox's performances include an electric mix of contemporary mind reading, psychology, body language, magic, illusion and humour. He can control the coincidence and probe theories of fate. Chris mixes love based narrative with unique mind-reading effects. His predictions are a mongrel hybrid mix of psychology, reading signals, human control, the disarming power of comedy and, lucky guesswork!

Chris Cox presents stage and cabaret shows, he does not perform close up or walk around. He performs at private events, parties, weddings, corporate functions and product launches.