Marc Paul
Mind reader, pyschological magician and corporate mind trainer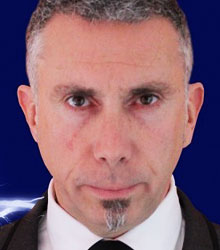 Copyright © Belbin Photo
About
Marc Paul is a mind-reader, psychological magician and corporate event speaker who has entertained and amazed audiences both in the UK and worldwide with his award winning mind-reading performances.

Using high level psychology and mind control techniques, Marc can convincingly demonstrate mind-reading at any event. His skills are so refined that he was officially voted the "World's Greatest Mind-Reader" by his peers at the prestigious World Magic Awards in Los Angeles.

Marc has been a professional entertainer and speaker for the past 15 years. This incredible experience has shown him how to make his shows work at any event. From a private dinner party with just 6 guests to large corporate conferences of over 1500 people Marc will tailor his performance to always have the maximum impact. In his spare time he teaches memory and presentation skills for business. His memory improvement seminar is an ideal addition to any team building day. If you want to know what your dinner guests or clients are thinking Marc Paul is the right man for the job!

However, Marc Paul is best known for his amazing performance on the Michael Parkinson Christmas show. On this high profile chat show Marc Paul stunned Michael Parkinson and his celebrity guests including Tom Jones, Martine McCutcheon and Alistair McGowan.

Marc also starred in his own hit television series "Mind Games" which featured his unique talents over sixteen prime time shows. Other television credits include: Undercover Magic (Sky 1), Magic (BBC2), Heroes of Magic (Ch 4)
Equinox - Secrets of the Psychics (Ch 4), Paranormal World (ITV1), Mysteries (BBC1), Stuff the White Rabbit (BBC2), Paul Daneils' Secrets (BBC1), Trick on Two (BBC2), Top of the Pops (BBC1) and Staggered (1994 Rank Films).

In addition to being voted the "World's Greatest Mind Reader", Marc Paul is a member of the Academy of Magical Arts based in Hollywood at the exclusive Magic Castle. He is also a Gold Star member of the world famous Magic Circle in London. In fact he is one of the select few with INNER CIRCLE status that denotes performers of outstanding ability.
Testimonials
Thanks for your performance at our recent sales conference in Marbella. Judging from the responses from our customers since our return, everyone thoroughly enjoyed your show!
On behalf of Pro Motions and Barclays thank you for your exceptional performance... After you left I overheard many conversations of clients discussing their amazement.
I am writing to thank you for your wonderful performance at our Dinner and Cabaret last Friday. I have received numerous emails and telephone calls commenting on how much people enjoyed your performance. Your empathy with the audience and volunteers shone through and everyone I spoke to were all very enthusiastic.
To say that we were impressed really is an understatement. You absolutely surpassed our expectations. I have been booking a huge variety of professional performers for over 10 years now and to put my last statement into perspective, no-one has ever 'surpassed my expectations'! You worked the audience perfectly and delivered in such a professional manner, consistently weaving into the theme during the three days. So ...a big thank you!
You may also be interested in...