Annabel Croft
Former British tennis champion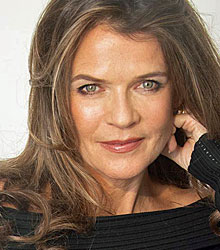 About
A former British tennis champion Annabel retired from professional tennis at the age of twenty-one. Her charm and entertaining playing style had made her a great favourite with the crowds, both live at tennis events and on television and these attributes transferred naturally to the world of media. Immediately after her retirement, Annabel developed, and continues to enjoy, long term relationships with many of the leading broadcasters' tennis output, both as an anchor, tennis reporter and as an all round sports correspondent.

Annabel developed a successful media career initially as the glamorous face of Channel 4's Treasure Hunt and ITV's Interceptor and in recent years has used her vast experience of the tennis circuit to contribute to a number of channel's coverage of the sport.

Fitter, healthier and more confident than ever, both and on and off screen, Annabel is fast becoming a new favourite with kids and parents alike proving herself serious competition for anyone that would like to take the challenge. She came just 2 points off winning BBC1's Superstars where she led the woman's team throughout the whole series. She has also successfully completed the New York marathon and remains committed to a fitness regime that has seen her look better than ever.

Naturally every year sees Annabel continue to play an integral role in the coverage of Wimbledon for the BBC, Radio 5 Live, LBC and GMTV as she keeps her involvement in the game at the highest level both on and off screen. She is also a key member of British Eurosport's coverage of the French and US Opens and Sky's coverage of the Australian Open.

She is also frequent guest on lifestyle shows such as The Wright Stuff, The Entertainment Show, GMTV, Out and About and This Morning.

Annabel continues to support her passion in raising the awareness of child obesity in the UK and the issues and causes surrounding it and, as a fit, healthy, glamorous mum-of-three, uses her position as a role model to other mums to help spread the message about a problem that is spiralling out of control.

She is passionate about motivating mums to stay active despite the busy lives that they lead and has been involved in a number of campaigns for top brands including Robinsons, Vodafone, Ariel and Kia cars to help promote healthy lifestyles.
You may also be interested in...