Andy Nicol
Former Scotland Rugby Union Captain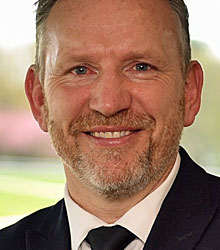 About
Former Scotland rugby union captain Andy Nicol enjoyed a playing career of great distinction for more than a decade. He led Bath to the ultimate club prize of Heineken Cup glory in 1998 and two years later captained Scotland to their first Calcutta Cup victory over England for 10 years.

A scrum-half, first capped in 1992 Andy went on to win 23 caps for Scotland and had brief spells as a replacement on two British and Irish Lions tours in 1993 and 2001. He was also called up as a late replacement for the Lions on their 2001 tour, replacing Austin Healey.

He started his career at Dundee High School and made his debut for Scotland in 1991 against England. Regrettably though, he never played in a World Cup tournament, not being selected in 1991 and 1999, and being injured in 1995.

As captain of Bath, he was the first British player to lift the Heineken Cup, when they defeated Brive in 1998. In 1999 he moved from Bath to Glasgow Caledonians.

He retired at the end of the 2002–03 season and went on to manage a Scottish-based sevens team at the Dubai 7s from 2004 until 2006 and then again in 2009.

Since leaving sport altogether, Andy has moved into the business world as CEO of a company that specialise in creating and delivering award-winning learning and development programmes. His leadership credentials are immediately apparent, as is his ability to build effective and enduring relationships that are based on understanding and trust.

Andy's seamless transition from being a professional within elite sport to operating with great success in the business world is testament to his ability to master new and often challenging environments. This can be seen from Andy's TV punditry with BBC Sport, his career as a multi- company ambassador as well as his undoubted ability as a leadership speaker.

Andy's style is highly engaging and authentic, enabling him to share his knowledge with confident humility. His communication and presentation skills are world class, as is his understanding of what it takes to lead, be led and operate at the highest level.
Speech Topics
Andy Nicol has a superb sense of humour and his after dinner speeches are coloured with stories and characters encountered throughout his career.

With experience of speaking all over the world, he is equally skilled as a motivational or team building speaker, drawing from past experiences as Captain and lessons learnt throughout his diverse career.

Andy will light up a room with his charm and wit and is a must for any event. Do bear him in mind for your golf day too as he plays off an extremely competitive handicap!
You may also be interested in...