Andy Hamilton
Comedy writer, director and producer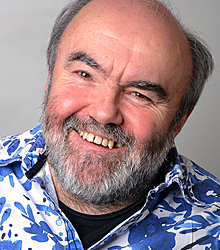 Copyright © Steve Ullathorne
About
Andy Hamilton is a TV favourite who has made a name for himself over the years with his original comedy writing. Whether he is dealing with family life in Outnumbered or politics in Ballot Monkeys, a 'real-time' sitcom about the 2015 General Election, Andy just gets it right.

Andy is a regular on Radio 4 panel shows and TV quizzes such as Have I Got News For You and QI. Starting out with The Two Ronnies, Smith and Jones and Not The Nine O'Clock News, Andy went on to create Drop The Dead Donkey. With co-creator Guy Jenkin, he wrote sixty episodes and the series won a BAFTA, two Emmys and three Writers Guild Awards.

He is the voice of Dr Elephant, the dentist in the children's show Peppa Pig. He was also the original voice of Bob Fish, who is also a dentist, in the cartoon Bob and Margaret. Hamilton is also voice of Captain Squid, the pirate in the children's show Ben & Holly's Little Kingdom.

On 16 March 2007, Andy Hamilton co-presented BBC Radio 4's Woman's Hour programme alongside usual presenter Martha Kearney as part of that day's Comic Relief fundraising activities after defeating Richard Hammond and Kelvin MacKenzie in a poll.
You may also be interested in...