David Baddiel
Comedian, best-selling author and TV presenter (Baddiel & Skinner)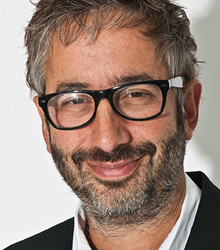 Copyright © Tessa Hallman
About
David Baddiel is one of the country's most successful post-alternative comedians and is responsible for some of the most memorable and groundbreaking comedy achievements of the last twenty years.

An accomplished comedian, author, screenwriter and television presenter, David Baddiel returned to stand up comedy in 2013, following a several-year hiatus, with his critically acclaimed show, Fame: Not The Musical. In Spring 2016 David premiered the second installment of a running theme, My Family: Not the Sitcom, at London's Menier Chocolate Factory. So successful was the show, it transferred to London's West End in the autumn that year, with a 5-week run at The Vaudeville Theatre.

David's first brush with comedy was in 1982 when he wrote and performed in the sixth form revue at The Haberdashers Aske School Elsetree, which nearly got him expelled. At Cambridge, where he graduated from King's College with a double-first in English Literature, he was vice president of the Footlights. On leaving, he performed stand-up on the London circuit while working on a PhD entitled 'Seductive Innocence: The Little Girl in Victorian Sexuality'.

He then started performing stand-up routines on the London comedy circuit where he befriended Rob Newman. The pair began writing sketches for Weekending on BBC Radio Four which led to TV fame for the both of them with The Mary Whitehouse Experience.

David Baddiel met Frank Skinner in 1990 at Jongleurs comedy club in London. They shared a flat in Hampstead for several years and starred together in the very successful Fantasy Football League.

This led to them joining forces with The Lightning Seeds to record Three Lions for Euro '96 which reached No. 1 in the charts. The song was re-released in 1998. Dave and Frank starred on TV together once again in Baddiel and Skinner Unplanned on ITV. In 2001, he wrote and appeared in his own sitcom Baddiel's Syndrome on Sky One.

David reunited with Frank Skinner to record a new series of podcasts for Absolute Radio throughout the 2010 FIFA World Cup, four years after they launched the World Cup's first ever podcasts which were downloaded by over 1 million listeners and nominated for a Sony Radio Academy Award.

2010 also saw the release of David's long-awaited film, the critically acclaimed feel-good comedy The Infidel. Starring OMID DJALILI, RICHARD SCHIFF, MATT LUCAS and MIRANDA HART, The Infidel followed Mahmud Nasir, loving husband, doting father and something of a "relaxed" Muslim who's world is turned upside down when his birth certificate which reveals that not only was he adopted at birth…but he's Jewish, and his real name is Solly Shimshillewitz.

After four critically acclaimed adult novels he released his third children's book, The Boy Who Could Do What He Liked, which was written especially for World Book Day and followed the hugely successful The Person Controller and The Parent Agency.
Testimonials
David Baddiel was excellent. He was wellreceived by the audience and could havegone on longer but the client needed towrap up. Please pass on my thanks toDavid and thanks for making it happen!
Everybody loved David Baddiel. I don't think we ever had anybody on stage who managed to control the audience so well and managed to make them listen! Job extremely well done! Would have him again anytime!
David Baddiel attended the official opening of The Word, the new National Centre for the Written Word in South Shields and we found him delightful to work with. The question and answer session that David held with the audience worked extremely well and we received brilliant feedback from our guests who felt it was the perfect way to follow a number of more formal speeches. In fact one commented that booking David had been an inspired idea which really helped to set the tone of our new cultural venue. We found NMP Live very professional and easy to work and look forward to working with both David and NMP again in the future.
Books and DVDs
Clients often ask about purchasing books for giveaways and delegate packs. Below you'll find a selection of products by David Baddiel. Click the images to view on Amazon's website. For bulk orders, please speak with your Booking Agent.
You may also be interested in...