Mike Reiss
Multi-Emmy winning producer of The Simpsons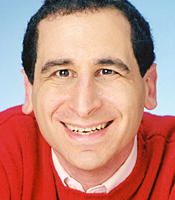 About
Mike Reiss has won four Emmy Awards for his work on The Simpsons, the wacky animated series that has kept America laughing for over 20 years and earned TIME Magazine's vote as "the greatest TV show of the twentieth century". During his 15 seasons on the show, Mike Reiss penned a dozen scripts and produced over 300 episodes. His other television credits include The Tonight Show with Johnny Carson, Alf, Eddie Murphy's The PJs and It's Garry Shandling's Show, where he earned an ACE award for writing and producing.

He is the co-creator of The Critic, a well-received animated series that starred Jon Lovitz as a lovable movie critic. Mike Reiss also created Queer Duck, the animated adventures of a gay duck. An internet hit with rave reviews in the U.S. and Europe, the show made the BBC's list of "100 Greatest Cartoons of All Time". A feature film version of Queer Duck was released in 2006.

Culled from more than two decades of creating the funniest and most outrageous shows on television, Mike Reiss' after dinner presentation is a unique glimpse inside the cutting edge of entertainment, including rare video clips from The Simpsons and The Critic. He takes audiences inside the lives of Springfield's first family, revealing how The Simpsons was almost canceled before it hit the air, secret trivia of the show, insane dealings with network censors and lots of juicy gossip about celebrity guest stars. Mike also delves into the current state of television programming, describing with his characteristic wit how TV has changed and where it's going.

A former editor of both The Harvard Lampoon and The National Lampoon, Mike Reiss continues as a consulting producer on The Simpsons. In addition, he is a frequent contributor to Esquire and Games magazines and is an award winning mystery writer. He has published 10 children's books, including the best-seller How Murray Saved Christmas, a Christmas story for Jewish kids, and his latest work, The Boy Who Wouldn't Share. He has lectured on comedy and animation in 36 states in the country and is looking to visit even more.

Mike Reiss holds a B.A. from Harvard University. He currently lives in New York City with his wife Denise. Like most children's book authors, he has no children. He is an atheist.
Speech Topics
Mike Reiss' After Dinner Speech Topics Include:

Simpsons Family Values
An irreverent, gossipy, inside look at the Simpsons: dealings with censors, celebrity guest stars and angry sponsors. It's very, very funny.

Bart's Billions: Secrets of the Simpsons Empire
An inside look at how a cult cartoon show went on to become an international hit and gross fifteen billion dollars... and counting!

The Simpsons and Other Gentiles I've Known
An ecumenical look at Jewish comedy. The speech has become a Hillel society staple, allowing the Jewish college group to reach out to the campus as a whole. At UNC Chapel Hill, it drew 800 people and won a national award from Hillel. It has also played well at many synagogues.
Books and DVDs
Clients often ask about purchasing books for giveaways and delegate packs. Below you'll find a selection of products by Mike Reiss. Click the images to view on Amazon's website. For bulk orders, please speak with your Booking Agent.
You may also be interested in...