Allan Lamb
Former England cricketer, sports personality and raconteur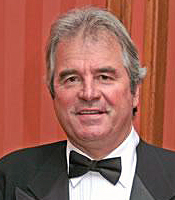 About
Born in Cape Province, South Africa, Allan Lamb first played first-class cricket for Western Province, before being signed as an overseas player by Northamptonshire.

There he made his fame, and was persuaded that, with South Africa banned from Test match cricket because of the apartheid régime, he was best taking advantage of his parents' English heritage to play for England.

In the years that followed, he showed his dedication to England on many occasions, playing in 79 Tests. He even captained England on three occasions, and led Northamptonshire almost to the County Championship in 1995. Lamb was named Wisden Cricketer of the Year in 1981.

Allan Lamb is one of only five players to have batted on all five days of a Test match, and he has scored the most Test runs of any player with a top score of less than 150.

A great friend of Ian Botham, in his retirement Lamb went on a stage tour with him, discussing various humorous incidents that had happened to them as England players. More recently, Allan "Lamby" Lamb & Ian "Beefy" Botham have advertised British lamb & beef using the play on their names as a selling point.
You may also be interested in...