Peter Baxter
Broadcaster and producer of BBC Radio's world-famous 'Test Match Special'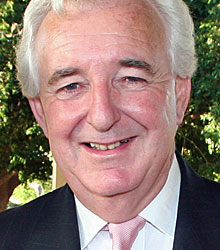 About
Peter Baxter was producer of BBC Radio's world-famous 'Test Match Special' programme for thirty-four years. He left the BBC staff in 2007, the year of the programme's fiftieth anniversary.

In that time he produced the radio coverage of around 400 Test Matches round the world, in all ten Test-playing countries, commentating and reporting himself on much of the cricket. He has worked alongside some of the great names of broadcasting, like Brian Johnston, John Arlott, John Snagge, Rex Alston, Jonathan Agnew, Henry Blofeld and Christopher Martin-Jenkins and employed some of the greatest cricketers of the post-war era as expert commentators as well as interviewing them for the programme.

He is one of a very small group who have worked on all nine Cricket World Cups and he has also covered World Cups in rugby and football. In fact he was the BBC's rugby producer for eight years and was in charge of the coverage of the University Boat Race for a decade, on top of his cricketing duties.

Eight tours of India and four of Pakistan have inevitably provided a rich source of material for after-dinner speeches and illustrated talks. He reported from Delhi when Indira Ghandi was assassinated and from Faisalabad when Mike Gatting and umpire Shakoor Rana had their infamous difference of opinion. In company with Jonathan Agnew, he was threatened with jail for trying to enter Zimbabwe after the BBC had been banned from covering a series there, was held up by bandits in West Bengal and he famously sent Agnew to the ramparts of the Galle Fort to report on a Test Match from there when the BBC had been banned from that ground.

In England he was a helpless bystander in the back of the commentary box as – to his horror – Brian Johnston and Jonathan Agnew 'corpsed' after the celebrated remark that "Botham couldn't quite get his leg over". And he was there, too, for one of John Arlott's greatest commentaries – on the first streaker ever seen at Lord's: "Not very shapely – and it's masculine – and it's seen the last of its cricket for the day."

Peter Baxter's repertoire is packed with amusing and entertaining tales from behind the scenes in 'Test Match Special' the radio programme that has become a national institution.

Books:
Test Match Special (1981), Test Match Special 2 (1983), Test Match Special 3 (1985), From Brisbane to Karachi (1988), From Arlott to Aggers (1997), Test Match Special 50 Not Out (2007) – all as editor and main writer.

The Ashes – Highlights since 1948 (1989) and England v West Indies – Highlights since 1948 (1991) – with Peter Hayter.

Views From the Boundary (1990) and More Views From the Boundary (1993) – with Brian Johnston.

Cricket's Big Day Out (1998), World Cup – Cricket's Clash of the Titans (1999), Cricket's Greatest Battles (2000).
Books and DVDs
Below you'll find products by Peter Baxter which may be available for purchase. Click the image to view on Amazon's website. Clients often like to purchase books and other merchandise as autographed give-aways at events where Peter Baxter is appearing. For bulk purchases, please speak with the Booking Agent handling your event.
You may also be interested in...