Alan Davies
Actor and comedian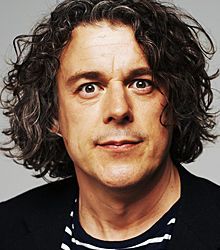 About
Alan Davies is one of the UK's best-loved award winning comedians, actors and television personalities. Instantly recognisable and synonymous as the long-suffering permanent celebrity panellist on popular panel quiz show 'QI' and for his portrayal of Jonathan Creek, a trick-deviser for a stage magician with a sideline in solving crimes. Alan is also widely known as an animal rights campaigner and passionate vegetarian.

Having graduated in drama from the University of Kent in 1988, Alan Davies began performing stand up comedy only five months after leaving university, first at the Whitstable Labour Club and then with a three month trip across Canada performing at various Fringe Festivals and Comedy Clubs. Upon his return to England, Alan secured a television spot within six months, and in 1991 he was named Time Out's Best Young Comic. He continued touring and performing in the UK, Canada and Australia, winning the Edinburgh Festival Critics Award for Comedy in 1994. That show was released on video and audio cassette in 1995 as "Alan Davies Live at The Lyric" recorded as part of the Perrier Pick of the Fringe season in 1994. Alan Davies' most successful stand up tour was his show Urban Trauma which completed a sell-out season in 1998, this was released on DVD.

In the mid 1990's Alan made the transition to drama with the BAFTA winning comedy Jonathan Creek. The series ran from 1996 until 2003 picking up a BAFTA for Best Drama. The series earned Alan a large following of loyal fans and it's been exported to several countries. He also appeared in Bob & Rose, The Brief, Miss Marple and Hotel Babylon. In 2004, he starred as Henry Farmer, a maverick barrister, in the ITV Sunday night drama The Brief, although he quit after the second series. His theatre debut was in Morris Panych's Auntie & Me. The production was a sell-out success at the 2002 Edinburgh Festival and transferred to the West End in 2003. Alan returned to the stage in 2005, this time alongside Bill Bailey as Felix in The Odd Couple, again at the Edinburgh Fringe.

QI wouldn't be the show it is without its one-and-only permanent panellist, other than host Stephen Fry. Alan is the only guest who refuses the offer of seeing the questions one hour in advance (guests are given this opportunity to be able to think of some jokes) which makes his consistent performance even more remarkable. He has also appeared in all but one of the shows entire run since 2003, because he was in Paris watching Arsenal play in the 2006 Champions League Final.

Alan Davies returned to live comedy in 2013 with a stand up tour titled "Life is Pain" and is now available for awards hosting events and for after dinner stand up comedy sets.
Books and DVDs
Clients often ask about purchasing books for giveaways and delegate packs. Below you'll find a selection of products by Alan Davies. Click the images to view on Amazon's website. For bulk orders, please speak with your Booking Agent.
You may also be interested in...