Zoe Ball
Television presenter, former Radio 1 DJ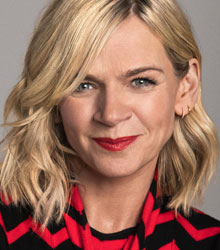 Copyright © BBC
About
Zoe Ball needs little introduction... Born in 1970 and educated at a Convent School in Buckinghamshire. Zoe began her television career as a runner at Granada Television and researcher on BSkyB. She spent two years as a researcher for quiz shows.

She presented C4's 'Big Breakfast', CBBC's 'The O-zone', 'Playdays' on weekday mornings, 'Fully Booked' in 1995 and children's show 'Live & Kicking' show for three years.

After presenting the much lauded 'Live & Kicking', in October 1997 she fronted the Radio 1 Breakfast Show alone, winning her a new legion of fans, not to mention a Sony Gold Award. She presented it until 31 March 2000 when her best friend Sara Cox took over.

Zoe Ball continued her onscreen partnership with Jamie Theakston for three successful series of 'The Priory' (Ginger Prods) for Channel 4 and presented the BBC series 'Class Of...'. She recently presented the Saturday night BBC3 coverage of 'Strictly Dance Fever' and ITV's Specials, 'Queenmania' and 'Elvismania'.

Zoe was very busy in 2005 as Narrator on 'The Loop' a documentary for Radio 2, as Presenter in FAKING THE BAND, THE MATCH, ELVIS MANIA, guest on the FRANK SKINNER SHOW and did very well in STRICTLY COME DANCING.

Zoe Ball is married to former Housemartins singer and DJ Norman Cook (AKA 'Fatboy Slim') who she met in Ibiza in 1998. The have one son Woody and reside in East Sussex.
You may also be interested in...