Will Whitehorn
Former President and CEO of Virgin Galactic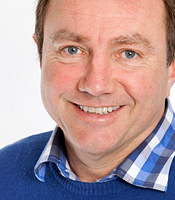 About
Former Virgin executive Will Whitehorn led one of the most groundbreaking business ventures of the 21st century as President and CEO of Virgin Galactic: commercial space travel. Often dubbed the 'right hand man' of Sir Richard Branson, Will brought Virgin Galactic from a nascent dream to a project with real spacecraft, test flights, a spaceport, and imminent daily flights one hundred miles above the Earth's surface.

Educated at The University of Aberdeen where he graduated with an MA Honours 2.1 in History with Economics, Will Whitehorn was an RAF Cadet from 1975-77 and learned to fly on de Havilland chipmunks. After graduating, he worked as a helicopter crewman in North Sea Oil Industry on Chinooks and S61 helicopters before joining Thomas Cook in 1983 as a graduate trainee.

In 1985 Will was headhunted by the then TSB Group to become Group Market Intelligence for the privatisation flotation of TSB Group prior to its later merger with Lloyds. He worked on the prospectus, equity marketing campaign and flotation logistics with the advisors.

Will joined the Virgin Group in 1987, initially becoming Group Public and Investor Relations Manager, then gaining responsibility for presenting Virgin's new private equity joint venture strategy and beginning a transition into a more general management role working closely with Sir Richard Branson as Special Projects Director, mainly for Virgin Atlantic. His firsthand experience of running industrial design projects includes the development of Virgin's Pendolino and the Virgin Atlantic Flyer composite aircraft.

The company was originally built upon the success of Richard Branson's Virgin Records, sold in 1992 to EMI for £1 billion. However, Will Whitehorn maintains that Virgin has prospered, by and large, because of its readiness to accept failure. That fear exists in very large corporate organisations, which is why they stultify.

He comments, "Sir Richard taught me three key things that I apply to pretty much everything I do. The first is, examine everything and don't take no for an answer until all questions have been properly thought through. The second is, don't be scared to try new ideas and equally, don't be scared to call it quits if one of these ideas isn't going to work – there's no shame or embarrassment in honest failure. The last learning I took from Sir Richard is the most important – never do anything in business that questions your integrity and never say anything you would not be happy to say in a court of law. Reputation is everything, and it's much easier to think about your actions and their consequences before you actually act!".

In 2011, Will Whitehorn stood down as President of Virgin Galactic to pursue a portfolio career that includes a number of Directorships. This includes Chairman of the Transport Systems Catapult, which will position the UK as the leading provider of innovative and integrated transport solutions to the rest of the world.

Still a trusted advisor to Sir Richard Branson, Will is also a Non-Executive Director of Stagecoach Group Plc and the Scottish Exhibition and Conference Centre in Glasgow, and former Chairman of the Loewy subsidiary, Speed Communications.
Speech Topics
In his keynote presentations, Will Whitehorn talks about his time at Virgin and how the company built its brand into one of the most recognised in the world.

Sharing his insights into the Virgin story, he explains the impact new technologies have on businesses and focuses on how to drive business innovation and growth through the right combination of innovative people and technology. Will also entertains his audiences with the enthralling and unique Virgin Galactic Story.

At the heart of Virgin's marketing success is customer centricity, leadership, ambition and innovation – there are no limits to ambition, as long as the organisational structure can be innovative, as well as the products. Virgin is a great example of this. He also discusses how Sir Richard Branson applied common sense, natural marketing flair and a vision of the possible to create a business empire based upon the simple notion of branded private equity.

Other speech themes include:
• The Virgin Group Story.
• The Future of Transport Technologies.
• The Future - How Space Travel Can Impact Business.
• The Role of PR in a Complex 24/7 World.
• A Passion for Technology Through Industrial Design Projects.
• Lessons Learned, Sparking Innovation.
• Managing Risk From Both a Business and Media Perspective.
• What Makes Sir Richard Branson Tick.
You may also be interested in...