Chris Roebuck
Acknowledged international authority on leadership (UBS, HSBC, KPMG)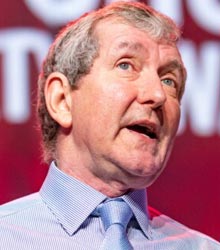 About
Chris Roebuck is Visiting Professor of Transformational Leadership at Cass Business School in London. He has held senior roles at UBS, HSBC, KPMG, the London Underground, has served in the British Army, and is one of the top 15 Human Resources thinkers in Europe.

As Global Head of Leadership at UBS, he helped deliver leadership and development strategies, resulting in one of the most successful corporate transformations to date. The UBS Strategy Project is now a Harvard Business School Case Study on transforming organisational performance.

A sought after advisor and leading authority on entrepreneurial, engaging, ethical and effective leadership, Chris Roebuck shares his insights and vast experience to give audiences a simple route to rapidly become a member of the elite group of truly effective, inspiring and respected leaders in their organisation. This is achieved via his new approach to leadership – Mach 2 – that has been described by a leading Professor of Psychology as a "breakthrough" in thinking about leadership in organisations.

Chris Roebuck believes that a few simple actions by leaders can transform working lives for staff, enhance their family life, help their organisations succeed, and deliver economic growth to their community. This transformation is simple, low cost, and brings quantifiable benefits quickly, with just two key steps.

It is founded on Prof Chris Roebuck's own experience and leadership success stories from around the world. Anyone who leads people, or wants to, from young students to CEOs of major corporations, will learn how to lead this transformation in performance.

Chris is a frequent commentator in the media on leadership, and is regularly interviewed by, amongst other, the BBC, ITV, CNN, Sky News, Bloomberg and Al Jazeera.

His speaking engagements regularly take him to cities across the USA and Europe, to Moscow, Dubai, Singapore, Malaysia, Myanmar, and Hong Kong. He has also spoken to the Chinese Aerospace Science and Technology Corporation (Chinese Space Programme), the Chinese Aviation Industry Corporation in Beijing and NASSCOM in India.
Speech Topics
Chris Roebuck uses the leaders' own experiences, combined with his approach, to show how "world-class" performance is possible, and how this can deliver improvement in not only performance, but also in customer service, managing risk, innovation, managing change, cost efficiency, and the handling of other critical challenges.

This enables his message to inspire a large range of audiences, from general senior and other leaders, to specific groups, including CEOs, CFOs, Chief Risk and Legal Officers, Finance and IT leaders, and project managers.
You may also be interested in...