Roger Flynn
Former Director/CEO for companies incl Virgin, British Airways, BBC, Prudential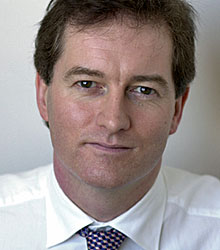 About
Roger Flynn is an accomplished businessman whose experience is unique having worked at a Director/CEO level in several global companies across multiple industries at times of rapid change. He has run businesses with turnovers between £400m and £2bn, with millions of customers and thousands of staff.

Roger Flynn can bring a fascinating insight and perspective to the challenges of developing and running global businesses and his talks can be focused on topics such as Transformation, Turnaround, Strategy in Action, Leading Culture Change, Delighting the Customer and Innovation.

Roger likes his talks to be entertaining as well as insightful and can compare and contrast between the companies he has worked for. His talks are always tailored to the client and brought to life through stories and practical experiences.

Virgin
Roger worked directly for Sir Richard Branson following the late 80's highly leveraged buy-out of Virgin Group Plc to develop a range of businesses across the Group.

British Airways
Worked for BA during the transition from Lord Colin Marshall to Bob Ayling through the aggressive expansion strategy, strike, launch of Go, launch of fabulous new First & Club World products and reengineered £1bn+ distribution value chain.

Prudential
Joined immediately after the £2bn pensions miss-selling debacle to run the UK Retail business ("The man from the Pru") that caused the problem! Drove a major business transformation including an exhilarating and exhausting culture change for 6,500 people; launched new products and channels.

BBC
Chief Executive of the commercial media services group with 4,500 people. Transformed the capabilities from Public Service back office to commercial businesses, grew revenues rapidly, dramatically changed the customer relationship, innovated product offerings leading to the successful sale of BBC Technology.

SDI Media Group
President International of SDI Media Group, a global company providing media services to the major players in the Film and Television Industry.
Testimonials
Thank you so much for all your efforts to make the conference such a resounding success. The 850 delegates were really impressed with both the substance and significance of your presentation and achievements. Thank you for a terrific job.
Many of the delegates commented on how inspiring and thought provoking they found your speech.
I would just like to thank you again for joining us on Tuesday night. I have had some great feedback and your speech has certainly made an impact on quite a few of our guests; including myself. One of our members has come up to me after and mentioned that he is currently undergoing a re-structuring process and you have given him some great ideas. This to me is a prefect outcome. Not just an entertaining speech but one that is relevant to the audience too.
You may also be interested in...