Village People
One-of-a-kind 1970s camp dance band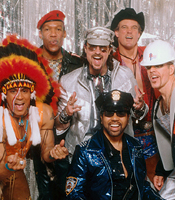 About
The one-of-a-kind Village People is synonymous with feel-good 80s dance music. Formed in 1977 and still going strong four decades later, their global hits fill dance floors around the world with such classic songs as YMCA, Macho Man, I Am What I Am, In The Navy and many others. The Village People's impact on music has earned them the title "Kings of Disco" and they have sold more than 100 million recordings.

Over the years, the Village People have performed a full schedule of fairs, festivals, universities, public concerts and casinos throughout the United States as well as Canada, Brazil, France, South Africa, England, Finland, Belgium, Spain, Italy, Romania, Japan, Mexico, Australia, Poland and much more. The Guinness World Records book certified their Sun Bowl appearance on December 31, 2008 as the world's largest YMCA dance with over 40,000 fans doing the YMCA moves while the group performed.

The Village People were recently seen in the USA on Fox's "Wendy Williams Show, NBC's "Singing Bee" with Joey Fatone and in the American Express TV commercial with Ellen Degeneres and Beyonce and the 2012 Wonderful Pistachios spot too. Online, they recently sang with Susan Boyle, Lance Bass and Wynnona Judd on the 2013 Miracle Whip promo.

But it's their live concerts that keeps them a favourite among music fans worldwide. Perfect for private parties and corporate events, these six talented men combine energetic choreography with outrageous fun and lots of bumping and grinding, singing and dancing, providing great entertainment for all!

The current members of Village People are Alexander Briley ("Military Rep/G.I.), David Hodo ("Construction Worker"), Raymond Simpson (the "Cop"), Felipe Rose ("Native American Indian"), Jeff Olson (the "Cowboy") and Eric Anzalone (the "Biker").
You may also be interested in...