The Fizz (The Original Bucks Fizz)
Eurovision winners featuring Cheryl Baker, Mike Nolan and Jay Aston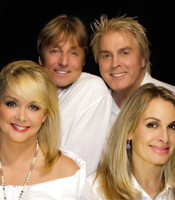 About
Early in 1981, four complete strangers sat in the drawing room of a house in Fulham and were told: "you are now Bucks Fizz".

In the eight weeks between that first meeting and appearing on "A Song for Europe" on 11th March 1981, Bucks Fizz were hurled into a melee of rehearsing, recording, routining, styling, interviews and photography. All that hard work and effort was to pay dividends - they went on to win the Song For Europe and Eurovision Song Contest 1981 and became household names around the world.

With over 20 singles released over the next few years including 3 number ones, "My Camera Never Lies", "Land Of Make Believe" and of course, "Making Your Mind Up", they sold in excess of 15 million records, spending 219 weeks in the UK charts alone!

Over the years, each member of Bucks Fizz went their own way but in 2008, Cheryl, Mike and Jay were reunited for a television show, "Pop Goes The Band" and they can now be seen at festivals, eighties weekends, private functions etc, regularly throughout the UK and beyond.

If you love the eighties and want to sing and dance to pure eighties pop music, watch all the familiar routines, hear the harmonies that Bucks Fizz are famous for and re-live that iconic moment when the skirts were ripped off, then Cheryl, Mike and Jay, Formerly of Bucks Fizz is that band!
You may also be interested in...