Bananarama
80s pop girl band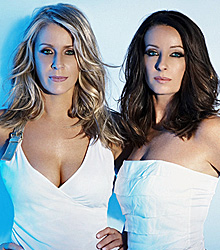 Copyright © Mark Bond
About
One of the most successful girl bands of all time, Bananarama's Sara Dallin and Keren Woodward achievements speak for themselves: more hits than the Spice girls, more album sales than Girls Aloud, two Band Aid appearances, an entry in the Guinness Book of Records as the biggest girl group surpassing the Supremes with more charting singles, all of which were international hits, four hitting the Billboard Top 10. It's a career that's seen them write for themselves, style themselves and even occasionally manage themselves, all adding up to a whopping 40 million record sales.

Bananarama have released 10 albums and sold 30 million records.
A singular talent for directing their own fate Bananarama are not a manufactured but formed in London when teenagers and childhood friends Sara Dallin and Keren Woodward met Siobhan Fahey. Sara and Siobhan were studying journalism at the London University of Arts (London College of Fashion) and Keren was working at the BBC. About to be thrown out of the YWCA for 'keeping late hours' Sara and Keren bumped into ex Sex Pistol Paul Cook in the club Taboo and he offered them a place to stay above the Sex Pistols old rehearsal room. He ended up producing their first single 'AIE A MWANA'. One early radio play from legendary DJ John Peel was all it took to catch the attention of ex Specials singer Terry Hall who tracked the girls down and asked them to perform on The Fun Boy 3s single 'It Ain't what you do it's the way that you do it'. They went on to support everyone from Iggy pop to Paul Weller (Weller went on to pen a track for the band's first album) and appear on numerous TV shows.

For the next ten years the girls were everywhere and so were their hits. They became international hot property when hits 'Cruel Summer' hit the US Billboard Top 10, with their video filmed in NYC , 'I Heard a Rumour No.4 ,Venus No. 1. And 'Robert de Niro's waiting (talking Italian)' paved the way for the now legendary meeting between the girls and the Hollywood superstar.
Identifying the right producers/collaborators at the right point in their career has always been their strong point from Jolley and Swaine who produced their debut album 'Deep Sea Skiving ' and follow up "Bananarama' to Stock/Aitken/Waterman who produced the Platinum selling 'WOW', to Youth with 'Pop Life. As recently as 2005 they were picking out Swedish hitmakers Murlyn to produce the album 'Drama'(singles 'Move in my Direction' & ' Look on the Floor' Top 20 UK, US Billboard dance No. 2) and in 2009 they found a perfect foil in Ian Masterson (Pet shop Boys, Girls Aloud, Kylie) who produced the album 'VIVA' .

Bananarama like the Go Gos and the Bangles were not a manufactured band but three friends who came from the London Club scene with a Punk attitude and were always in control of their own destiny. Bananarama have also appeared in the hit ITV comedy 'Benidorm' and headlined the prestigious 'Rock the Moor' series of festivals in the UK.
Performance
Bananarama are available for both corporate and private events. They can perform a 30-40 minute set to track featuring all of their biggest hits, or for a larger scale performance, they can perform a longer set with a four piece band.


You may also be interested in...