Bananarama
80s pop girl band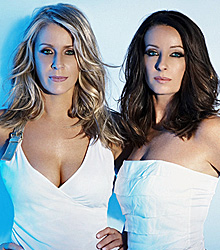 Copyright © Mark Bond
About
One of the most successful girl bands of all time, Bananarama's Sara Dallin and Keren Woodward achievements speak for themselves: more hits than the Spice girls, more album sales than Girls Aloud, two Band Aid appearances, an entry in the Guinness Book of Records as the biggest girl group surpassing the Supremes with more charting singles, all of which were international hits, four hitting the Billboard Top 10.

It's a career that's seen them write for themselves, style themselves and even occasionally manage themselves, all adding up to a whopping 30 million record sales and, to-date, the duo have had 32 Top 40 UK hits and released 10 albums.

A singular talent for directing their own fate, Bananarama are not a manufactured group, but formed in London during the 1980s when childhood friends Sara Dallin and Keren Woodward met Siobhan Fahey at a time when Sara and Siobhan were attending the London University of Arts to study journalism, and Keren was working at the BBC.

About to be thrown out of the YWCA for 'keeping late hours', Sara and Keren bumped into ex Sex Pistol Paul Cook in the club Taboo and he offered them a place to stay above the Sex Pistols old rehearsal room. He ended up producing their first single 'AIE A MWANA'. One early radio play from legendary DJ John Peel was all it took to catch the attention of ex Specials singer Terry Hall who tracked the girls down and asked them to perform on The Fun Boy 3s single 'It Ain't what you do it's the way that you do it'. They went on to support everyone from Iggy pop to Paul Weller and appear on numerous TV shows.

For the next ten years the girls were everywhere and so were their hits. They became international hot property when hits 'Cruel Summer' hit the US Billboard Top 10, with their video filmed in NYC , 'I Heard a Rumour No.4 ,Venus No. 1. And 'Robert de Niro's waiting (talking Italian)' paved the way for the now legendary meeting between the girls and the Hollywood superstar.

Identifying the right producers and collaborators at the right point in their career has always been the girls' strength; Bananarama, like the Go Gos and the Bangles, were not a manufactured band but three friends who came from the London Club scene with a Punk attitude and were always in control of their own destiny.

In 2012 they appeared in the hit ITV comedy Benidorm and toured the US, playing 10 dates at the Hard Rock Cafes in support of the Pinktober breast cancer awareness charity, and released a brand new 4 tracks digital EP called NOW OR NEVER.

2016 saw them tour Australian and Japan. Then in 2017, Sarah and Keren asked Siobhan to join them for a one off 'Reunion Tour' of the UK. This once in a lifetime opportunity (Fahey had never toured live with Bananarama) sold out immediately. They played a handful of US shows and UK/European summer Festivals including 'British Summertime' in Hyde Park with Van Morrison and Michael Buble and 'Lytham Festival' with Nile Rodgers.

For the past three decades, Sara Dallin and Keren Woodward have been one of pop's most influential and revered groups. Their hit-packed career happened because they were mould-breakers. Sometimes reminders of pop genius come in the slightest of touches and the subtlest of triggers. In Stereo, their 2019 11th studio album, is full of them.
Performance
Bananarama are available for both corporate and private events. They can perform a 30-40 minute set to track featuring all of their biggest hits, or for a larger scale performance, they can perform a longer set with a four piece band.


You may also be interested in...