Tiffany
80's teen music sensation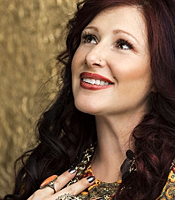 Copyright © Amanda Van Sandt
About
Tiffany was catapulted to pop superstardom at just 15 years old, with an iconic cover version of Tommy James and The Shondells hit "I Think We're Alone Now" in 1987. Girls fell in love with her for her voice and fashion sense while boys loved her for her beauty and sex appeal.

It wasn't long before the junior "Star Search" winner went from performing at US shopping malls to sold-out stadiums, fashioning herself into an '80s pop icon who only needed a first name. The legendary pop star had two number one hit singles with "I Think We're Alone Now" and "Could've Been", and set a record as the youngest female artist to top the Billboard charts with her debut album.

After two massively successful albums and world tours, at age 21 Tiffany's priorities shifted. She gave birth to her son Elijah and wanted to raise him out of the spotlight but she never stopped writing music. In 2008 the family relocated to Nashville where she became immersed in the tight knit song-writing community. The creative atmosphere brought her back to her roots as a young girl singing the songs of Loretta Lynn and Tammy Wynette while dreaming of becoming a country singer.

In 2000 Billboard Magazine described Tiffany's album "The Color of Silence" as "thoughtful, intelligent, and full of grace" and ranked it among the "Top Ten Best Albums of the Year". She has sold over 15 million albums to date.

These days, the still-sexy, still-talented forty-something singer-songwriter has branched out beyond pop. Her music can be heard in numerous television and feature film sound tracks, including "The Good Wife", "Ted" and "The Young and the Restless". Given her early fashion sense, it's perhaps not surprising to note that she also started her own vintage-inspired fashion retail store - Tiffany's Boutique - located in trendy East Nashville.

For someone who has spent her life touring around the world, it's surprising to discover that Tiffany has an extreme fear of flying. Despite this, she loves her visits to the UK and Europe and is hugely popular for 80s themed festivals and private engagements, where she can perform track sets or fully live with a band.
Books and DVDs
Below you'll find products by Tiffany which may be available for purchase. Click the image to view on Amazon's website. Clients often like to purchase books and other merchandise as autographed give-aways at events where Tiffany is appearing. For bulk purchases, please speak with the Booking Agent handling your event.
You may also be interested in...