Martin Fry and ABC
Popular 80's New Wave group fronted by Martin Fry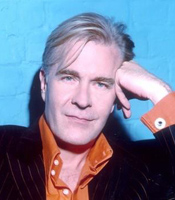 About
ABC were formed in Sheffield in the early 1980's when they decided they wanted fuse the world of disco funk with their own unique post punk vision.

Since those early days they have enjoyed a glittering career to date. One of a number of groups who came along and kick-started the Eighties with their own brand of pop for a "new decade", on it's release in May 1982 their debut album "The Lexicon of Love" crashed straight into the UK album charts at number one. Showcasing the hits songs "Tears Are Not Enough", "Poison Arrow"' "The Look Of Love" and "All Of My Heart". A groundbreaking collection of modern love songs.

With a majestic production from the legendary Trevor Horn it remains a classic to this day. Voted by many as the best British album of the decade. ABC's second album "Beauty Stab" was a very different proposition to the polished beauty of "The Lexicon of Love" and spawned the hits "That Was Then But This Is Now" and "SOS". It developed a much rawer hard-edged sound. These were protest songs from a band that was constantly evolving. This was followed in 1984 by the album "How To Be A Zillionaire".

The nineties saw the release "The Lexicon of Live", no prizes for guessing that it is a live album that showcases ABC on stage. A band that could deliver in the recording studio could clearly do the same in front of an audience. Skyscraping in 1997 represented a tour de force of gilt edged ABC. "Stranger things" and "Only The Best Will Do" embrace Glam inspired rock and roll. Collaborating with artists as diverse as King Britt in Philadelphia and David Arnold in London ABC continue to experiment and entertain.

In April 2008, Martin Fry and ABC released their first studio album in over 10 years. "Traffic" was a collaboration between Martin Fry, David Palmer (who had been in ABC during "The Lexicon of Love") and Chuck Kentis. The magnificent first single "The Very First Time" was a massive hit on BBC Radio 2, with the follow up "Love Is Strong" demonstrating that even now, Martin Fry's song-writing, stage craft and musicianship is still as contemporary as it was in the beginning.

"The Lexicon Of Love" was acknowledged as the greatest British pop LP of it's decade, and remains one of the 10 best of all time, ABC audiences and the press all say that the energy and the vocals of the band today easily match what they put out back in the 80's , giving audiences worldwide a great night of music and entertainment.3

Whether performing as a band or with an Orchestra, Martin Fry is the consummate showman.
Testimonials
I just wanted to say how fantastic ABC were on Saturday, everything was perfect and I could not have asked for a better evening. The Band were brilliant and what a personable chap Martin Fry is! Thank you for organising this – all our dealings with yourself and NMP have been exemplary and I couldn't recommend you highly enough.
Tags for Martin Fry and ABC
You may also be interested in...