Vanessa Mae
Multi-million-selling World-wide pop and classical violinist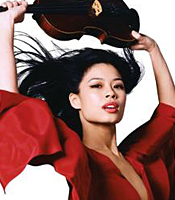 About
Born in Singapore on October 27, 1978, the beautiful young violinist Vanessa-Mae was just in her mid-teens when she shattered the mold of the classical virtuoso with the release of her first fusion album The Violin Player, forging a new style that has made her a multi-million-selling worldwide phenomenon and the breakthrough artist who virtually defined the fusion of classical and pop that became known as crossover.

Vanessa-Mae has collaborated with such pop legends as Janet Jackson and Prince, performed on the soundtrack of the Disney animated feature Mulan, played Bach for the British Royal Family on the 250th anniversary of the composer's death, fiddled as she modeled a wedding dress on the runway of a Jean-Paul Gualtier fashion show in Paris, and reached out to the children of the South African township of Soweto, the first international artist to be invited to its music school. Her stunning presence only adds to her appeal. People magazine has voted Vanessa-Mae one of the "50 Most Beautiful People in the World", and FHM named her one of "The World's 100 Most Beautiful Women."

An explosive live performer, Vanessa-Mae stars in an intensive touring program that has taken her around the world several times over. She has visited over 50 countries, including performances in many spectacular venues such as the Kremlin Palace in Moscow, the Acropolis in Athens, an outdoor pyrotechnic extravaganza in Dubai, and stadiums in Beijing and Shanghai. Beyond the bounds of typical concert venues, Vanessa-Mae is constantly bringing music to new places and new people.
You may also be interested in...