Asteria
Electric string quartet performing classical crossover favourites and pop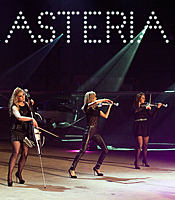 About
Asteria are an electric string quartet comprised of four elegant, glamorous girls who are musically trained at the highest level, and graduates of London's top musical conservatoires.

The girls perform their renowned show at concerts and parties all over the world; at events, private celebrations, and every conceivable opportunity where people gather to enjoy themselves and require a performance of international music and world class quality to set the stage alight.

THE SHOW
The world's most exciting electric string group take a glowing pride in the quality of their show, which they have honed into a fast paced impressive spectacle. When you see an Asteria performance you experience four dedicated girls delivering a high impact show with slick choreography and impressive musicianship.

The Asteria show is a fusion of musical styles, the essence of the show being filled with classical crossover favourites and instrumental versions of pop songs from past and present. The middle of the show indulges into the heart of world music; the girls love to inspire their audience to momentarily escape into the worlds of Cuban jazz bars, enchanted Arabic deserts and Mediterranean nightclubs.

BOOKING
The Asteria show can be catered in its makeup to work as a standalone musical centrepiece to an evening, or to fit with other live music and entertainment. The girls love performing with dancers, live bands and always enjoy any opportunity to make an event unique and memorable.

They are passionate about performing and equally passionate about variety; the girls invite all opportunities to perform in any setting and environment.

Recent work that the girls have done include performances as part of the Take That "Beautiful World" tour, Simply Red European Tour, James Morrison "Songs For You, Truths For Me" DVD, and international parties abroad for Davidoff & Bahrain Formula One.

BACKING MUSICIANS
Asteria usually perform as 4 electric strings to backing track.

The show can be augmented to include a backing band of:
- guitar & percussion
- guitar, percussion, drums, bass, keyboards
- guitar, percussion, drums, bass, keyboards, 15 backing strings

In addition to the backing band the show can also feature a large or small dance troupe.
Testimonials
The girls were amazing! The performance was absolutely stunning and I've had great feedback from so many people.  The outfits the girls were wearing were amazing and their energy was contagious. It was especially wonderful that they came out for a second set which was just absolutely beautiful and perfect. That was completely awesome! Please do send them all my sincere thanks and I hope they enjoyed their trip to Dubai and the event as well.
The band were amazing. They really went above and beyond and we will certainly be using them again. True professionals in every sense. What we managed to achieve in just one day was nothing short of a miracle and Asteria were instrumental in this.
You may also be interested in...