Myleene Klass
Multi-talented classical musician, pop star and television presenter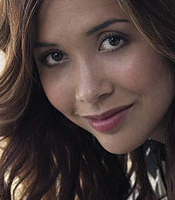 About
Myleene Klass celebrated the immense success with the release of her first solo classical album 'Moving on.' Not only did it enter the classical charts at number two, it went on to break records in all genres including entering the popular charts amidst pop and rock artists alike as well as being the first classical video to be played on 'the box' and other pop channels. Myleene also received her first Brit nomination for 'Moving on.'

She first shot to fame in the series 'popstars' going on to become a member of the 'controversial' yet incredibly successful pop band, Hear'Say. (They produced the biggest selling single/Arena tour)

Myleene began playing the piano and her grandfather's violin at four. She studied voice at the Guildhall school of Music and Drama where she added Harp to her repertoire. After completing her studies she went on to win a scholarship to the Royal Academy of Music where she later graduated.

After graduation, she worked as a session musician/singer. "I was incredibly fortunate. I got the chance to work with some of the most remarkable artists on a daily basis and learn from them. The diversity of the music I encountered each day is every musicians dream."

Diverse is an understatement. Myleene toured with the likes of K.D.Lang, Robbie Williams, Cliff Richard and Michael Crawford to name but a few!! Her West end debut followed rapidly afterwards as she joined the cast of 'Miss Saigon.' "I enjoyed being part of an ensemble. Miss Saigon is such an epic show and I had so much fun. Its such an emotional and rewarding show to be a part of." It was after treading the boards that she auditioned for the first reality show, 'Popstars' and the rest is music history.

With her exotic looks (her mother is Filipino, her father Austrian/English), her extraordinary talent and her passion for music and adventure, she is a girl made much more articulate and feisty by her experiences and one thing is for certain, this eloquent young woman will continue to break down the boundaries of music, image and predictability for a long time to come.

Myleene performs classical piano with no vocals.
You may also be interested in...