Usain Bolt
The world's fastest man and 9-times Olympic gold medalist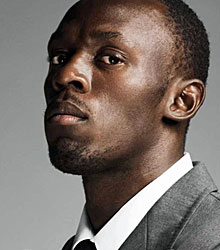 About
Arguably the most naturally gifted athlete the world has ever seen, Usain Bolt created history at the 2016 Olympic Games in Rio when he achieved the 'Triple Triple', three gold medals at three consecutive Olympic Games.

Usain's journey to worldwide stardom started at the 2008 Olympic Games in Beijing where he won the 100m, 200m and 4x100m, all in world record times.

He followed this with three gold medals in the same events at the 2012 Olympic Games in London, to write his name in the history books as the world's fastest man. Then, one day before his 30th birthday, Usain completed the same triple at the 2016 Olympic Games in Rio, to cement his legacy as an ultimate legend in world sport.

In addition to his nine Olympic Games gold medals, Usain Bolt won eleven World T&F Championships titles. He completed the 100m, 200m and 4x100m sweeps at the 2009 World Championships in Berlin, 2013 World Championships in Moscow and 2015 World Championships in Beijing. He won the 200m and 4x100m at the World Championships in Daegu in 2011.

But all the above was a dream waiting to happen, not just an overnight sensation. As early as age 14, young Usain was opening eyes with his lightning speed from regional championships in western Jamaica to national meets set in Kingston to meets in the wider Caribbean.

Because he towered above his peers even then, Bolt was also entered in the high jump event and was a promising fast bowler in cricket before been encouraged to channel his energies on the track.

It was not always smooth sailing however as injuries slowed him down at several junctures of his career.

2007 was the breakthrough year in that he broke the 30 year old Jamaican 200m Record, held by the great Donald Quarrie, with a time of 19.75 secs to win the Jamaican Senior T&F Championships.

2008 was Usain's breakout year when he rewrote the history books and became one of the biggest sports stats on the planet. Since then he has gone from strength to strength.

Usain Bolt has been awarded the Laureus World Sportsman of the Year on four occasions (2009, 2010, 2013 & 2017); the IAAF Male Athlete of the Year six times (2008, 2009, 2011, 2012, 2013, 2016) as well as many awards in many countries in all corners of the world.

He has a clothing line with Puma; a range of signature watches with Hublot; a restaurant chain called 'Tracks & Records'; an Urban Mobility company 'BOLT', a shaving company Champion Shave, an insole company Enertor; the 'Usain Bolt Foundation' and he is am ambassador for some of the top brands in the world.
You may also be interested in...