Dame Jessica Ennis-Hill CBE
Olympic, World and European heptathlon gold medalist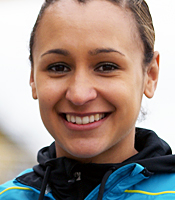 About
Jessica Ennis, British Olympian and Gold Medal track and field athlete, is the current Olympic heptathlon champion following her outstanding performance at the London 2012 games.

Jessica grew up in Sheffield, where she attended Sharrow Primary School before moving onto King Ecgbert Secondary School. At a young age Jessica and her sister were introduced to athletics. In the school holidays they would attend local athletics camps, where she won her first athletics prize – a pair of trainers. More importantly, it was there that she met the man who was to become her coach, Toni Minichiello. Jessica took to the sport immediately and joined the City of Sheffield Athletic Club the following year, aged eleven.

In November 2000, aged fourteen, she won the Sheffield Federation for School Sports Whitham Award for the best performance by a Sheffield athlete at the National Schools Championships, where she won the high jump competition.

Since 2000, Jessica Ennis' progression through the junior and youth competitions showed she was a promising talent for the future. She continued to study and attended the World University Games in 2005 achieving a bronze medal. After graduating with a degree in Psychology from The University of Sheffield Jessica became a professional athlete. Her first season as a senior athlete demonstrated her potential gaining a bronze medal at the Commonwealth Games.

In August 2012 Jessica Ennis won the gold medal in the heptathlon at the London 2012 Olympic Games with a British and Commonwealth record score of 6,955 points. Jessica had proved her immense talent as a multi-eventer and cemented herself into the history books. Along with other British 2012 Olympic gold medal winners, she was featured on a special Royal Mail commemorative postage stamp and had a post box in Sheffield city centre painted gold in her honour.

Jessica Ennis is a patron of the Sheffield Children's Hospital charity and of businessman Barrie Wells's sports foundation. She is also an Ambassador for the Jaguar Academy of Sport. She writes a column for The Times newspaper and has been involved in advertising campaigns for Aviva, Powerade, BP, Adidas, Omega watches and Olay 'Essentials'.

She enjoys shopping (particularly for handbags!) and cooking, her speciality is Lasagne. When she isn't shopping or cooking she likes to spend time with her family and friends. Jessica Ennis-Hill was made a Dame in the 2017 New Year's Honours List for services to sport.

Jessica Ennis is extremely popular for corporate events where she offers a compere-led chat with Q&A from the audience. She is also available for awards hosting and personal appearances.
Tags for Dame Jessica Ennis-Hill CBE
You may also be interested in...