Ulrika Jonsson
British media personality, television presenter and former TV-AM weather girl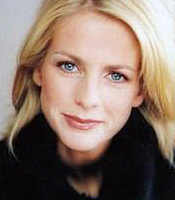 About
Ulrika Jonsson was born in Stockholm, Sweden, in 1967 and moved to England at the age of 12. She became TV-am's weather presenter in 1989 and three years later she co-hosted all original seasons of ITV's massive hit, Gladiators. In 1995 she joined Vic Reeves and Bob Mortimer as regular team captain in their highly successful comedy quiz show Shooting Stars, and has appeared in many comedy shows including her own special.

She has interviewed political heavyweights Gordon Brown and John Major, as well as hosting the 1998 Eurovision Song Contest with Terry Wogan, and the Royal Variety Performance. She also presented the primetime BBC1 Saturday night hit Dog Eat Dog, as well as a range of high profile documentaries, family and reality shows. She was the winner of 2009's Celebrity Big Brother.

Her autobiography, Honest, was published in 2002, and was shortlisted for the British Book Awards' Biography of the Year. For over four years she was a lead columnist for the News of the World and currently contributes to a range of newspapers and magazines. She is currently writing her first novel, to be published by Michael Joseph/Penguin.
Speech Topics
Ulrika Jonsson is available for corporate events as a presenter, awards host or compere and additionally for launches, ribbon-cutting ceremonies and promotions.
You may also be interested in...