Lisa Snowdon
British model and television presenter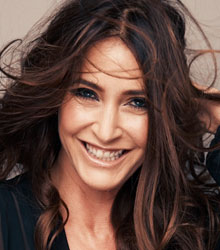 About
Lisa Snowdon (nee Lisa Snawdon) was born in 1974 in Welwyn Garden City, England. The eldest of three sisters, she moved to London where she worked briefly as a waitress before being talent-spotted in a London nightclub.

Lisa has appeared in major fashion magazines such as Vogue, Marie Claire and Cosmopolitan, as well as the occasional men's magazine, including GQ, Esquire and FHM. The latter seemed to be a huge fan of Lisa, as it featured her in 2 of its calendars, as well as chose Lisa to grace the cover of the 1999 edition of "The Girls of FHM". But even with Lisa's magazine spreads and her work with big-time photographers like David Bailey, Nick Knight, Kim Knott, and Andre Rau, Lisa is best known for her commercial work.

In the UK, Lisa is known as the model in the Kellogg's Special K commercial (the girl in the red swimsuit), while her biggest claim to fame was an ad for Faberge's "Addiction", a steamy perfume commercial. Her other commercial work includes Lynx deodorant, Dove soap, Gossard, Mercedes Benz, and Neutrogena, among many others.

Lisa's most memorable advert must be a Martini ad featuring her and George Clooney, shot in Italy. Although the ad didn't air on American television, Americans know Lisa as Hollywood Actor George Clooney's on-off girlfriend -- or to women -- as the girl who stole America's most eligible bachelor. Apparently, George Clooney called Lisa a little after the shoot, and invited her back to his place in the States. They've been seen at public affairs in both the US and England ever since.

A graduate of the Italia Conti School of Performing Arts, Lisa's move to the screen began with a starring role in "Man's Best Friend", a Channel 4 short film. This led to Lisa's hosting of MTV UK's Select and the late-night show LA Pool Party.

In 2002, her career as a television host received a major boost with appearances on BBC's "Top of the Pops", ITV's Lynx Extended Play, and "Rock the House" (2002) on VH1. Lisa has recently been seen guest-presenting on GMTV from the Cannes Film Festival.
You may also be interested in...