Tom Daley
2009 World Champion and British bronze medal Olympic diver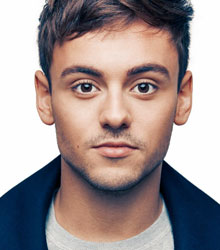 About
At just 14 years of age, Tom Daley went to the 2008 Beijing Olympics as the second youngest male British Olympian ever.

Tom began diving age 7 at his local diving club in Plymouth. With incredible raw talent and a strong competitive instinct, Tom has been setting records ever since. He won his first competition in June 2004 at the Nationals, where he became the youngest ever under 18 champion. Tom's first taste of the Olympic experience was being part of Team GB's successful group of 106 young athletes who claimed 48 medals against elite world class opponents at the Australian Youth Olympic Festival in January 2007.

Tom's progression in 2008 was phenomenal. In February at the FINA World Cup in Beijing's 'Water Cube' arena, he had a chance to qualify for the Beijing Olympic Games. Tom finished seventh in the Men's Individual 10m Platform event. This top eight finish meant that he had booked his place on the GB Olympic team.

A month later in March he claimed the European Men's 10m Platform Individual title in Eindhoven at the age of 13, becoming Britain's youngest ever diving Gold medallist in the process. He overcame the challenge of both the current World Champion and World Cup Champion to take Gold, following flawless dives in rounds four and five of the competition which earned him top scores from the judges.

Beijing was a fantastic experience for Tom, making the finals in both the 10m Platform and 10m Platform Synchro and providing him with invaluable knowledge of coping in high pressure international competitions.

2009 saw Tom winning the Grand Prix in Florida with a dive that earned him perfect 10's across the board. He backed this form up two months later at the World Championships in Rome winning Gold ahead of the Olympic Champion and both the Senior and Junior World Champions. Tom is now the youngest ever British World Champion in any sport.

In 2010 Tom's focus was on learning new dives, passing his GCSE's and becoming Commonwealth Champion. After learning 4 new dives in the off season Tom then achieved straight A's and A*'s in his exams. In front of a sell out crowd, Tom and his Synchro partner Pete Waterfield built on their Bronze medal from the 2nd leg of the 2011 FINA World Series, to win Gold at Sheffield in the penultimate stage of the competition. Mexico witnessed Tom's first individual medal, in the final stage of the World Series, as he took Silver in the 10m Platform.

Tom had an impressive start to 2012. Having secured 6 medals in the FINA World Diving Series, Tom was named overall Individual and Synchronised World Series Champion in the 10m Platform. A day before turning 18, Tom reclaimed his European title in Eindhoven on the 10m platform, beating his personal best he'd set just weeks before, with a score of 565.05. He went on to win a bronze medal at the London 2012 Olympics.
You may also be interested in...