Sir Tim Rice
Academy award-winning lyricist and author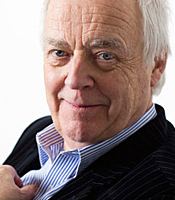 Copyright © Helen Maybanks
About
Sir Tim Rice began his professional life with the intention of being a solicitor, but harboured career aspirations in the field of pop music. Tim approached the head of Arlington Books, Desmond Elliot, with the idea of writing a book about pop history. That idea didn't impress Elliot, but the fact that Tim was also a lyricist did. Desmond Elliot knew Andrew Lloyd Webber, who at the time was about to attend college at Oxford to read History, and he knew that Andrew was looking for a lyricst. At Elliot's suggestion, in April 1965 Tim wrote to Andrew, and a meeting was quickly arranged.

Andrew Lloyd Webber's musical ambitions were in theatre rather than rock or pop. However, they teamed up and wrote four musicals together from 1965 to 1978. The first, The Likes of Us (1965-66), was performed for the first time in 2005 and became available on CD a mere 40 years after its creation. The other three, Joseph and the Amazing Technicolor Dreamcoat (1968), Jesus Christ Superstar (1969-71) and Evita (1976-78) were more immediate successes.

Feeling certain that they could never top this lot, the pair went their separate ways in the early eighties, whereupon Andrew Lloyd Webber immediately topped that lot with Cats. Tim Rice then wrote Blondel (1983), a mediaeval romp, with Stephen Oliver, which ran for a year in London. This was followed in 1986 by Chess, in collaboration with ABBA's Björn Ulvaeus and Benny Andersson. Chess had a healthy run in the West End but flopped on Broadway in 1988, the New York Times bloke (since replaced) being particularly forceful in his disapproval. There have been countless productions worldwide since then, with wide variations in quality and indeed storyline. A notable recent production was in concert at London's Royal Albert Hall in 2008 starring Josh Groban, Idina Menzel, Adam Pascal and Marti Pellow. In 1989 Tim translated the famous French musical Starmania (by Michel Berger and Luc Plamondon) into English, which merely resulted in a hit album – in France.

In the 1990s Tim Rice worked primarily and happily with the Disney empire, contributing lyrics to the movies Aladdin (music Alan Menken) and The Lion King (music Elton John and Hans Zimmer) and to the stage shows Beauty and the Beast and King David (both Alan Menken), The Lion King and Aida (both Sir Elton). Between Disney commitments he wrote the words for Sir Cliff Richard's theatrical blockbuster Heathcliff (music John Farrar), which toured the UK in 1995-96. For Dreamworks, he and Sir Elton joined forces yet again to write the score for the 2000 animated film The Road to El Dorado.

In early 2011 Tim contributed four new lyrics to music by his old partner Andrew Lloyd Webber for Andrew's new production of The Wizard of Oz at the London Palladium. The show ran there for over year and then moved on to Toronto.

Sir Tim Rice has won a variety of awards, mainly for the wrong things, or for simply turning up. These include a Star on Hollywood's Walk of Fame, three Oscars, four Tonys, five or six Grammys and 13 Ivor Novellos. He broadcasts regularly for the BBC and independent radio and television networks, most recently BBC Radio 2's TIM RICE'S AMERICAN PIE, a series exploring the music and musicians of each American state

He is a former president of the Marylebone Cricket Club and was chairman of the UK charitable Foundation for Sport and the Arts for the entire 21 years of its existence (1991-2012). He was knighted by HRH Queen Elizabeth II in 1994.
Books and DVDs
Clients often ask about purchasing books for giveaways and delegate packs. Below you'll find a selection of products by Sir Tim Rice. Click the images to view on Amazon's website. For bulk orders, please speak with your Booking Agent.
You may also be interested in...