Sir Tim Berners Lee
Inventor of the World Wide Web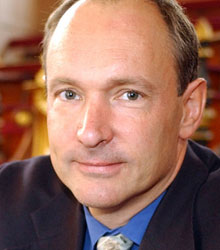 About
Sir Tim Berners-Lee OBE is the inventor of the World Wide Web one of the greatest innovators of our time who has changed the way we live our lives, forever.

Now with the Laboratory for Computer Science (LCS) at the Massachusetts Institute of Technology (MIT), Tim directs the W3 Consortium, an open forum of companies and organisations whose objectives are to realise the full potential of the Web.

Born in London in 1955, Tim Berners-Lee graduated from Queen's College at Oxford University, England with 1st Class Honours in Physics 1976. In 1984 he took up a fellowship at CERN, to work on distributed real-time systems for scientific data acquisition and system control. In 1989, he proposed a global hypertext project to be known as the World Wide Web. This work was started in October 1990, and the programme "World Wide Web" first became available within CERN in December, and on the Internet at large in the summer of 1991.

Through 1991-1993, Tim continued working on the design of the Web, co-ordinating feedback from users across the Internet. His initial specifications of URLs, HTTP and HTML were refined and discussed in larger circles as the Web technology spread.

In 1994, Tim joined the Laboratory for Computer Science at the Massachusetts Institute of Technology (MIT), as director of the W3 consortium which co-ordinates W3 development world-wide, with teams at MIT and INRIA in France. The consortium goal is to realise the full potential of the Web, ensuring its stability through the rapid evolution and revolutionary transformations of its usage.

In 1995, Tim Berner-Lee received the Kilby foundation's "Young Innovator of the Year" Award for his invention of the World Wide Web. He shared the ACM Software Systems Award in 1995 with Robert Cailliau, Marc Andreessen and Eric Bina. He has an Honorary degree from the Parsons School of Design, New York (1996).

In 2004 Tim Berners-Lee was knighted and in 2007 he was awarded the Order of Merit (OM) one of 22 living members bestowed as a personal gift of the Queen. In June 2009 then Prime Minister Gordon Brown announced that Sir Tim Berners-Lee would work with the UK Government to help make data more open and accessible on the Web. He is building a web for open, linked data that could do for numbers what the Web did for words, pictures, video: unlock our data and reframe the way we use it together.
Speech Topics
Sir Tim Berners Lee's keynote speeches are infrequent due to pressures of work and the effects that travelling has on his schedule. However, requests to speak are always invited and previous keynote topics Include:

The Web: Directions and Impact
History of the World Wide Web
Building Industries on the Web
The future of The Internet
Global Electronic Commerce
Creativity in Cyberspace
Tags for Sir Tim Berners Lee
You may also be interested in...