Jamie Woodruff
Expert in cyber security, social engineering and ethical hacking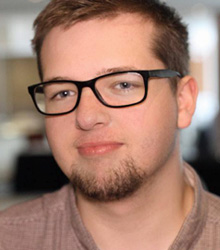 About
Jamie Woodruff is an ethical hacker and one of the world's leading authorities on cyber security.

A what, you ask? An ethical hacker, or Certified Penetration Testing Engineer — to give the role it's official title — is employed by major businesses and blue-chip corporations to perform penetration tests of their computer systems in order to find the vulnerabilities for potential hackers to exploit, and then advise on how to remedy the flaw. Jamie has discovered vulnerabilities in Facebook, Google, PlusNet, The Daily Mail, Apple, The Trainline, Twitter, YouTube and many other well-known online applications.

Jamie began his computer hacking 'career' at the tender age of nine. At school he failed all his GCSEs apart from IT where he gained an A*, because computing comes naturally to Jamie. He then went on to college where he was given a test which identified that he had both dyslexia and dyspraxia, which went unnoticed throughout his school years.

Far from settled or content at college, Jamie left got a job as an IT programmer. Whilst at work one day Jamie decided that he had much more to offer, so started looking into the possibility of going to university. It was at Bangor University, where he was studying information systems, that Jamie successfully hacked Facebook as part of a student competition, and entered the public eye. It was he who uncovered flaws in Kim Kardashian's website that were putting her fans' data at substantial risk.

A 'poacher turned gamekeeper', Jamie started teaching ethical hacking while still a student and became a sought-after computer security expert. He has been cited in the case of Ashley Madison and has modelled how terrorists communicate online. Famously, Jamie's penetration and testing of a client's systems involved his real world impersonation of a Domino's pizza delivery boy at a large financial institution followed by his picking the lock of the server room.

Jamie is a director a cyber security company specialising in training, penetration testing and recruitment and is safety advisor for the Cyber Smile Foundation specialising in the prevention of online cyber bullying.
Speech Topics
Jamie Woodruff advises both domestic and global corporations on the dynamic nature of computer system and network security.

He is an insightful, engaging and interactive keynote speaker, who involves his audience in the pursuit of understanding how easily we can all be manipulated, and how we can safeguard ourselves against cyber crime and social engineering.

Jamie speaks on a range of topics and themes, the most popular of which include artificial intelligence (AI), cyber and network security, asset management security, social engineering, human manipulation and risk in technology.
You may also be interested in...