Sarah Ayton OBE
Olympic sailor and double gold medalist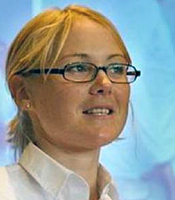 About
Sarah Ayton, is one of Great Britain's top sailors, having won gold in the Athens 2004 Olympic Games as the youngest member of Shirley Robertson's crew.

Sarah teamed up with former crew-mate Sarah Webb and Pippa Wilson for the Beijing 2008 Olympic Games, where she won another gold medal in the Yngling sailing class. Having already received a MBE, she received her OBE in the 2009 New Years Honours.

Sarah Ayton began sailing aged six, when she was taken sailing by a family friend at Queen Mary Sailing Club in Staines. Like many of the top Olympic Classes sailors she began sailing in an Optimist dinghy. After making the jump to the Laser Radial class, Sarah decided she wanted to start racing and from a very early age showed real talent. It wasn't long before she reached the dizzy heights of British Number one and at the age of 18 won a silver medal at the ISAF Youth Sailing World Championships in 1998. This was Sarah Ayton's first taste of the podium and she hasn't looked back since.
Speech Topics
Sarah Ayton's speech topics include:
• A 'no compromise' approach to success
• What makes a high performance team?
• Secrets of a successful team
• Turning a Goal, Vision or Dream into reality
• Controlling the controllables
• Decision making & performing under pressure
• Innovation and collaboration
• The Olympic Games –the greatest show on earth
Testimonials
I just wanted to pen a brief email to say a big thank you for the superb and most uplifting talk you gave in Geneva. It was such a pleasure to meet you and to hear your story -absolutely enthralling and your style, delivery and honesty was brilliant. You are a wonderful ambassador for sport and for Britain.
Sarah Ayton is ALWAYS fantastic. She is eloquent and engaging and very professional in her approach to every event we have used her for. It is a privilege to be associated with her and enjoyable to work with her.
Sarah Ayton was the highlight of our entire event. Her speech was incredibly inspiring. She completely captured our audience with her charm, enthusiasm and her undeniable passion for success. I would have no hesitation in employing her again for our future events.
You may also be interested in...