Alex Thomson
Yachtsman and World Record holder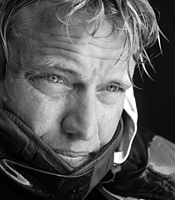 About
Alex Thomson is an inspiration to all who hear him speak. There are many great sports men, but what sets Alex apart is his ability to articulate his experiences with incredible charisma, enthusiasm, and a healthy dose of humour.

In October 2005, Alex Thomson vowed to be the first skipper to race three gruelling round the world races in three years; the Velux 5 Oceans 2006-07, followed by the inaugural two-handed Barcelona World Race 2007 and culminating with the infamous Vendée Globe 2008.

Life is good for Alex. He has a long-standing sponsorship deal with top fashion house HUGO BOSS and he already has a world record under his belt, and a media profile enviable of sports men around the globe.

But life has not always been glamorous and uncomplicated for Alex. At 21, he found himself working in a factory packing plastic straws for McDonalds, probably not what one would expect of a would be world record holder.

His personal determination to succeed saw him 4 years later become the youngest skipper ever to win a round the world yacht race. This is testament to the natural leadership skills he possessed from such a young age.

The Velux 5 Oceans in 2006, proved to be one of the toughest challenges Alex has undertaken to date, but not in a way he could have ever anticipated. Thomson's Yacht HUGO BOSS suffered severe Keel failure, forced him to abandon her in the southern ocean, 1000 miles from the nearest land. Alex so diligently filmed the treacherous rescue operation, that Channel 4 commissioned a one-off documentary on the dramatic ordeal.

Alex's experiences and success in both the sporting and business world make him a compelling, eloquent and knowledgeable speaker on many aspects of leadership, motivation and striving to win. His story will inspire all who listen.
You may also be interested in...