Ben Hunt-Davis MBE
Olympic gold medalist for rowing (team-mate of Sir Steven Redgrave)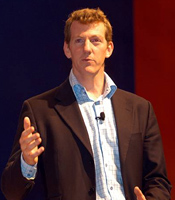 About
Will It Make the Boat Go Faster? With the difference between success and failure being so small, having everyone asking the same question and focusing on the same goal enabled Ben Hunt-Davis to raise his game and row his way to an Olympic Gold Medal.

Ben Hunt-Davis won Gold at the 2000 Sydney Olympics in the Rowing 8+, this was the culmination of 9 years in the national team. Since then he has specialised in Leadership and Team development running a successful coaching business whose clients have included many FTSE 100 companies.

In 2008 Ben worked as part of the HQ Staff for Team GB at the Beijing Olympics. From 2009 to mid 2011 he worked for the British Olympic Association as the 2012 Project Director and then Head of Athlete Engagement. He is continuing to work for the British Olympic Association. As a consultant he is running an education programme designed to ensure that Athletes and Support Staff are ready to perform at their best on the biggest stage of their lives, the London Olympics 2012.

Ben Hunt-Davis is also Chairman of the Organising Committee for the 2011 World Rowing Junior Championships, a 2012 Test event. His first book 'Will It Make The Boat Go Faster' was published in June 2011.

Ben, has spent much of the last 9 years as a keynote speaker and performance coach working with a wide range of businesses helping them perform in their roles. In his keynote speech he tells the inspirational and exciting story of how, after a decade in the national team he won an Olympic Gold Medal. His crew, the Men's 8+ were the first British winners of the event since 1912.

Ben Hunt-Davis's story is of how a diverse group of individuals, who as international athletes were incredibly average, came together to form a team. A team that could learn from setbacks and failures, become process driven whilst being innovative and use a common goal to drive them forward in the same direction enabling them to achieve their dream.
Testimonials
Ben was fantastic, his talk was very well received and he was so generous letting people hold his medal, and was patient with everyone wanting photos with him! He kindly took time to meet delegates, exhibitors and staff and I know they were glad of the chance to speak with him. Your assistance was excellent. The booking form was straightforward to complete (thank you) and actually helped me focus my thoughts on how the event was running. I know we kept coming back with more queries but you were able to respond quickly and we felt reassured that everything would run smoothly.
Ben's presentation was absolutely superb and clearly captivated the audience - it was inspiring, upbeat, interactive and extremely interesting.
A large number of my older partners who have all been round the block a few times said it was singularly the most inspirational piece of public speaking they had ever witnessed.
Just a quick note to say a very big thank you for the fabulous talk Ben Hunt-Davis gave at the conference on Friday. Everyone I have spoken to thought his session was outstanding. Of particular note was the way in which he related his rowing experiences to our theme of the day, something that is often overlooked by many 'inspirational' speakers.
Ben Hunt-Davis' slot was the highlight of our marketing conference, he was fantastically well received - as well as being an engaging and highly entertaining speaker, his messages really hit home. I've had a huge amount of positive feedback from everyone who attended the day. He was extremely personable, arriving early and staying on to help present achievement awards. I would have no hesitation in recommending Ben as a speaker or indeed booking him again for a John Lewis event.
Tags for Ben Hunt-Davis MBE
You may also be interested in...