Dee Caffari MBE
British Yachtswoman and multi-World Record holder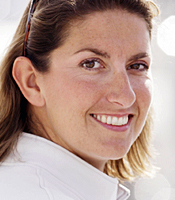 About
Dee Caffari was awarded an MBE in recognition of her solo circumnavigation against the prevailing winds and currents, setting a world record in the process by becoming the first woman to complete this epic voyage in 2006.

More recently Dee competed in the 2008/9 Vendée Globe – a race around the world, non-stop and alone, known within the sailing arena as the pinnacle offshore event. Dee crossed the finish line in 6th place out of the 30 starters.

As the only female to sail solo, non-stop in both directions around the world, Dee added to her achievements in June 2009 by claiming the overall crewed monohull Round Britain and Ireland Speed Record, which now stands at 6 days 11 hours 30 minutes and 53 seconds.

A former secondary school teacher of Physical Education, Dee decided after five years of teaching to change careers. With a desire for adventure, travel and experiencing new environments, Dee set her sights on the marine industry. First she qualified as a water sports instructor then completed her offshore sailing qualifications and began to work on yachts.

A love of the ocean and our coastlines has seen Dee become an ambassador for the RYA Green Blue Campaign to help encourage everyone to Reduce, Re-use and Recycle.

One of Britain's most inspirational women, Dee Caffari is also an experienced, popular international speaker. Dee has spoken at intimate client dinners and addressed huge conference halls. Dee's warm delivery and the images and footage she shows brings the drama and challenges of her world-record-setting voyages alive.

Whether you are organising an event for the Board, key clients, senior managers, the sales force, or every member of staff, Dee delivers something special. Gregarious, courageous but also candid about the challenges she has faced, Dee delivers powerful messages in an entertaining way and her talks engage those with no yachting background whatsoever!

After Dinner & Awards Hosting...
With anecdotes drawn from three circumnavigations of the globe, Dee tailors her talks to inspire and entertain her audience. Clients appreciate Dee's humour and positive world-view as well as respect her 'jaw-dropping' stories and achievements.

Keynote - Leadership & Teamwork...
Dee has led others through hostile conditions, inspiring an amateur team of sailors in the Global Challenge, for example, and overseeing a dramatic rescue too. She led an all-woman crew to beat the record sailing around Britain and Ireland. Good communication, focus, careful preparation, goal setting and developing others' talents are key. As well as a sense of fun!

Keynote - Courage In Difficult Times...
Sailing solo for nearly six months to become the first woman to sail 'the wrong way' round the world, Dee has faced icebergs, intense sleep deprivation, technical failures and the worst that the Southern Ocean can muster. Dee speaks from experience of staying motivated when things get tough, achieving high performance, self-belief and succeeding against the odds.
Testimonials
Dee was engaging, down to earth and warm hearted. Her presentation was extremely well received by our clients. Her description of the extraordinary challenges and her way of dealing with them was a lesson in perspective for us all.
Everyone was just completely silent, listening with their jaws dropped: her talk was funny, interesting, relevant and the audience were captivated. Dee was quite happy to do question/answers completely unprepared and she engaged the audience in her talk.
A stunning success all round. Dee was amazing.
Dee is a wonderful presenter… truly inspiring! The audience was spellbound. I don't believe we have ever had so many people ask so many questions after a presentation, but Dee took it all in her stride and graciously answered each one with good humour and wit.
You may also be interested in...