Dame Ellen MacArthur
Fastest person to sail single-handed around the World non-stop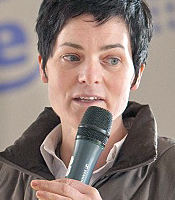 About
Ellen MacArthur is the fastest person to sail single-handed around the world non-stop - completing the gruelling trip in an amazing 71 days 14 hours 18 minutes and 33 seconds. She achieved this victory in February 2005 in her 75 ft trimaran B&Q. Ellen is a truly remarkable young woman, not to mention being the fastest woman and youngest person to circumnavigate the earth in a solo yacht race.

Ellen's drive and determination are awe-inspiring, thousands follow her race progress on the Internet and hoards of people flock down to the quayside to see her off on a race. Ellen's record is a feat of mammoth endurance, speed and sheer physical and mental willpower in the face of overwhelming adversity.

Ellen's inspiration was sparked off by sailing trips, at the age of 8, in the holidays with her aunt. Her first boat was an 8ft dinghy which was the result of saving up her school dinner money for 3 years. At 18 Ellen sailed alone around Britain and subsequently won 'BT/YJA Young Sailor of the Year'. In order to raise sponsorship to compete in a transatlantic race, she lived in a portakabin for 3 years, took a one-way ticket to France, bought and refitted a tiny 21ft Classe Mini Yacht while camping under it in a boatyard, then raced 4,000m single-handed across the Atlantic over 33 days in the 1997 'Mini Transat' race.

She then went on to complete in the famous Route De Rhum transatlantic race and despite the failure of her keel hydraulics, Ellen won her class on an Open 50. In 1998 she was named BT/YJA Yachtsman of the Year in the UK and 'Sailings Young Hope' in France.

Ellen, at 24 years old and just 5'2" was one of two women and, with Mike Golding, two British challengers in the 20+ strong international fleet that completed in the Vendee Globe 2000 race, the toughest challenge that the world's oceans have to offer: 100 days alone at sea from the 5th November 2000, racing around the world.

A 'Jack of all Trades', Ellen is an expert skipper, electrician, sail-maker, engineer, journalist, cameraman, doctor.. unfortunately thought, not yet a great cook! Saving weight is critical, eating freeze-dried foodstuffs can significantly save weight on the boat - all Ellen has to worry about is not burning the water! Through her work with leading chronobiologist Claudio Stampi, has trained to sleep for as little as 20 minutes at a time to avoid fatigue, which can be life-endangering.

Ellen was awarded the MBE in the 2001 Queen's Birthday Honours list.
Speech Topics
Dame Ellen MacArthur is a highly sought-after motivational speaker. Having conquered the oceans, sailing single-handed around the world in record time, Ellen has won the nation's heart and is one of the best-loved elite sports personalities of our time. Ellen's charismatic personality, inspirational story, amazing achievements, and excellent speaking ability make her a highly engaging and gifted speaker.

The Story
Dame Ellen MacArthur is renowned for her ambition, professionalism and determination to succeed. Her story is not just about sailing, rather one of human endeavour! Ellen's way of approaching life - her innovative thinking and the challenges she seeks for herself inspire audiences to make their innermost dreams come true!

In her stunning presentations Ellen inspires, motivates, breaks down barriers and encourages us to achieve the impossible with her stories of overcoming incredible hardships, digging deep into her emotional reserves and finally achieving the impossible.
Tags for Dame Ellen MacArthur
You may also be interested in...