Sam Totolee
A-list DJ described by Vogue UK as the "best of the best"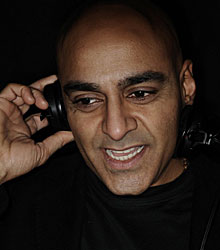 About
A professional DJ for over 15 years, DJ Sam Totolee has played for a long list of A-list celebrities at some of the most prestigious parties and events around the world. He has also been a resident DJ at clubs in London and Super clubs such as Space in Ibiza.

Whether you need a DJ for a nightclub, corporate event, private party or wedding, Sam will adapt the style of music he plays depending on the type of party, the theme, and the guests. However, for Sam the music must be an uplifting and soulful experience no matter what direction the event takes, leaving the guests fulfilled and always wanting more!

Video DJ
Through VJ'ing Sam Totolee is able to bring the music he plays to life with colourful motion graphics. He has created a Video DJ show where he is DJ'ing and VJ'ing simultaneously mixing songs and high definition visuals (company logo's and video addition also possible) to create a stunning audiovisual show!

The show, when launched at the beginning of 2012 was snapped up immediately by Bentley for the launch party of their new Continental V8 supercar in conjunction with Bouji nightclub. Not wanting to be outdone by their competition, Ferrari immediately followed for the launch party of their new 458 Spider sports car.

KALEIDISCO
Created by Sam Totolee, Kaleidisco is the ultimate DJ show and the latest visual extravaganza using high definition cutting edge visuals, live musicians, choreographed dancers and stunning pyrotechnics!

Combining the elements of a live band, a stage show, a VJ and a DJ The show builds over 2 hours adding elements of styled choreographed dancing, bongo and saxophone overlays, set around asynchronized lighting show, state of the art bespoke motion graphics that have been specifically designed for each song and then mixed 'live' alongside the music by Sam.

Kaleidisco takes DJ and club events to a new level of audience excitement, and can be adapted to suit your corporate event, film premiere, fashion show, nightclub or showbiz private party. And Kaleidisco is scalable depending upon the venue size and the budget.

CELEBRITY CLIENTS AND EVENTS INCLUDE…
Harry Potter World Premiere; Dark Knight Rises European Premiere; Monaco Grand Prix 'Sairam' Super Yacht Parties; Wedding of Paypal founder Elon Musk; Sherlock Holmes World Premiere after party; Rod Stewart and Penny Lancaster Wedding; Ibiza - Ocean Beach Club, Blue Marlin, Space, Privilege, Pacha, Ibiza Supperclub, Dirty Diamonds Parties; Charlies Angels Film premiere after party; Uma Thurman and Arki Busson engagement party; Sex And The City European Premiere at Kensington Palace; F1 Jenson Buttons birthday party; Marc Jacobs 'Daisy' party; Rimmel 'London' Party with Kate Moss; James Bond 'Die Another a Day' World Premiere; An evening with Quentin Tarantino….

CORPORATE CLIENTS INCLUDE...
Gucci, Calvin Klein, Top Shop, Tag, Vodafone, Formula 1, Mercededs Benz, Bentley, Ferrari, Sony Records, Warner Bros, and MTV!
Video
Click below to watch video footage of Sam Totolee. To enquire further about Sam Totolee for corporate and private bookings, please click here or call us on +44 (0)1372 361 004.
Testimonials
Considering booking Sam Totolee for your event? You may find the following client testimonials and comments helpful. To enquire further about Sam Totolee for corporate and private bookings, click here or call us on +44 (0)1372 361 004.
How can I thank you enough for doing such a grand job at the Charlies Angels premiere. The whole night was phenomenal and the music was absolutely spot on. The girls (Lucy, Cameron and Drew) were the last to leave which was great for us as they said they had so much fun. I will recommend you for all our parties in future. Once again, many thanks.
Thanks for playing for me at my birthday party, you made the occasion for me. Everyone had such a good time and the music was just one absolute winner after another creating a perfect journey.