Ronn Lucas
Comedian and America's leading ventriloquist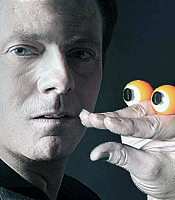 About
Ronn Lucas mixes stand-up comedy, improvisation, audience interaction, and astonishing voice manipulation to entertain and delight. 'Crazy people talk to inanimate objects and so do I, but at least mine talk back.'

The art of the stand-up comedian demands a quick wit and impeccable timing. The secret to great improvisational comedy involves a quick wit and impeccable timing. The ability to interact with members of the audience to create laughter and excitement requires a quick...well, you know where we're going here.

Ronn Lucas lives by his wits and wins over audiences with his perfectly delivered lines. However, there is one big difference between Ronn and every other successful stand-up comedian - half of his act is spent making other people, and other things, talk!

In a career that has taken him to four continents, Ronn Lucas has been adored by audiences and critically lauded around the globe for his astonishing vocal manipulation. He can make a basketball heckle while he blows up a balloon. He can trade jokes with his own microphone, and a toaster can do both rounds of "Row, Row, Row Your Boat". Additionally, he can turn any member of the audience into a life-sized singing dummy who delivers funny one-liners and even does some dance steps.

Unlike many in show business who push themselves to keep constantly in the spotlight, Ronn Lucas regularly drops out of performing to study new aspects of performance and to create new ways of entertaining an audience. It is this respect for his audience that makes Ronn Lucas one of the world's most interesting entertainers, and probably the first to ever mix vocal manipulation, stand-up comedy, improvisation and audience interaction into one performance.
Testimonials
The entire show has an energetic, optimistic feel... a Las Vegas classic.
The world's best ventriloquist.
Lucas has raised afternoon shows in Las Vegas to their highest level yet!
The Man Who Stole The Show.
You may also be interested in...