Jon Culshaw
Star of Dead Ringers, Spitting Image and One of the UK's leading impressionists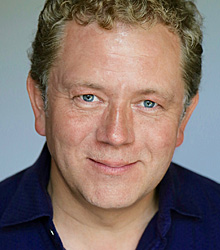 Copyright © Emma Samms
About
Jon Culshaw is regarded by many as the best impressionist in the UK, with a catalogue of over 350 characters ranging from Boris Johnson to Professor Brian Cox. From Barack Obama to Alan Carr. From John Bishop to Michael McIntyre.

His TV credits include Spitting Image, Dead Ringers, The Impressionable Jon Culshaw, 2DTV, Head Cases, Jon Culshaw's Commercial Breakdown and most recently teaming up with Debra Stephenson for The Impressions Show on BBC1. As well as being a talented impressionist and comedian, Jon is also highly in demand as a presenter.

With an unmatched versatility, Jon Culshaw is regularly called upon for a host of guest appearances. Other credits include Parkinson, The Royal Variety Performance, We Are Most Amused, The Secret Policeman's Ball, Friday Night with Jonathan Ross, Who Wants to be a Millionaire and Stargazing Live.

Jon first made international headlines in 1998 by calling the switchboard of No.10 Downing Street and fooling the operators with his William Hague impression. Jon then found to his delight that he was talking directly to Prime Minster, Tony Blair, live on London's Capital FM, from 10 Downing Street! Jon also provided all the impressions for the wind up phone calls heard on Capital FM's Steve Penk Show, some of which were released on CD.

Jon is a regular team member of the world's longest running programme The Sky at Night, first appearing with Sir Patrick Moore on the show's 50th anniversary in April 2007 and he recently began writing a monthly column for their magazine called Jon Culshaw's Exoplanet Excursions. He is part of the judging panel for the Royal Society's Winton Prize for Science Books. As a lifelong astronomy enthusiast Jon's role on The Sky at Night is to ask the scientists the kind of questions that the viewers might have. As he describes it 'Simply the best job on Earth'.

Jon Culshaw, with his enormous catalogue of impressions and diverse performance/presentation skills, is the perfect choice for hosting award ceremonies, after-dinner speaking and personal appearances.
Testimonials
I just wanted to drop you a note to pass on our sincere thanks to Jon Culshaw for the amazing job he did on Friday out our awards lunch. From the moment he arrived until his pleasantly late departure he charmed and amused everyone he met. We couldn't have hoped for a more wonderful and talented host.
I would like to start by thanking you and your team for your help with Jon Culshaw. He was a huge success onboard and was a real highlight for our guests. The Team onboard said he was a pleasure to work with and judging from emails I have received from Vicky it seems that he enjoyed himself also.
You may also be interested in...