Reginald D Hunter
American stand up comedian and television show panellist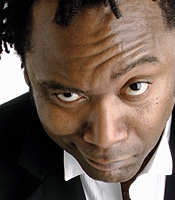 About
Reginald D Hunter is one of the few performers to have been nominated for the Perrier Award in three consecutive years and his career has led to him being invited to perform in venues the world over in places such as Singapore, Hong Kong, Thailand and South Africa. His debut Edinburgh show in 2002, 'I Said What I Said' was nominated for the Perrier Best Newcomer Award and his next two shows ('White Woman' in 2003 and 'A Mystery Wrapped In A Nigga' in 2004) both received Perrier Award nominations.

In 2006, as well as performing in America for the first time, Reginald won The Writers' Guild Award for Comedy for his show Pride And Prejudice And Niggas, which he then presented for a season in London's West End and on a national tour of the UK.

Born in Georgia, USA, and the youngest of nine children, Reginald D Hunter relocated to the UK in 1996 where he studied at RADA and went on to perform in good old fashioned Pantomime. His became a comedian after performing his first comedy set as a dare. For this set, he received £10. Realising he enjoyed it, and there was money in it, Hunter diverted his attention from his acting ambitions and re-focused on stand up.

In 2007, Reginald was a regular panellist on Sir Trevor McDonald's News Knight, ITV's weekly humorous look at current affairs and was invited to appear as part of the prestigious Montreal Comedy Festival.

Reginald D Hunter has performed at Sydney Opera House and subsequently returned to Australia appearing at the Sydney Comedy Festival together with making his second appearance at the Melbourne Comedy Festival.

Reginald D Hunter is a well-known face on prime time television shows such as 8 Out Of 10 Cats, Never Mind The Buzzcocks, QI and is a frequent guest on Have I Got News For You. He has also appeared in Argumental for Dave Channel, Would I Lie To You for BBC1 and Live At The Apollo, also for BBC1.
Books and DVDs
Below you'll find products by Reginald D Hunter which may be available for purchase. Click the image to view on Amazon's website. Clients often like to purchase books and other merchandise as autographed give-aways at events where Reginald D Hunter is appearing. For bulk purchases, please speak with the Booking Agent handling your event.
You may also be interested in...