Reeves & Mortimer
Wacky and surreal comedy presenting duo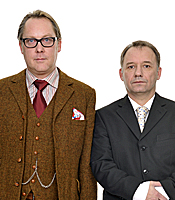 Copyright © Gary Moyes
About
Looking for something a bit different? Fancy some tailor-made high profile celebrity entertainment for your event? Then how about an evening of Vic Reeves and Bob Mortimer shaped shenanigans.

The legendary Shooting Stars duo can present their unique quiz show at your event, with your very own staff on the teams being quizzed on all that is weird and wonderful about your company (and if there isn't anything weird and or wonderful don't worry they'll find something!)

Vic and Bob will host a bespoke quiz show for your audience with 2 nominated members of your staff on each team. The show, lasting 30 minutes, will include everyone's favourite rounds including the Dove from Above and a final challenge for the victorious team.

The panel members will need to be selected up to a week in advance of the event and each will need to provide some information about themselves and their role in the company. Panel members will ideally be well known to the audience and more importantly have a good sense of humour!
Books and DVDs
Below you'll find products by Reeves & Mortimer which may be available for purchase. Click the image to view on Amazon's website. Clients often like to purchase books and other merchandise as autographed give-aways at events where Reeves & Mortimer is appearing. For bulk purchases, please speak with the Booking Agent handling your event.
Tags for Reeves & Mortimer