Ray Mears
TV presenter, author and expert on bushcraft and survival techniques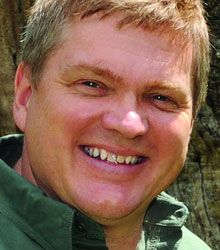 About
Over the last decade the name Ray Mears has become recognised throughout the world as being an authority on the subject of Bushcraft and Survival. He has also become a household name through his television series: Tracks, World of Survival, The Essential Guide to Rocks, Extreme Survival, Trips Money Can't Buy with Ewan McGregor, The Real Heroes of Telemark, Bushcraft Survival, and Wild Food.

It is obvious to some and a surprise to others to discover that Ray has spent his life learning these skills and is truly a master of the subject he calls Wilderness Bushcraft.

Ray Mears grew up in Southern England on the North Downs, where he discovered a countryside abundant with wildlife. Developing a unique attunement to his local environment, he learned to track foxes into the forest, never realising that he was embarking on a journey that would become his life's mission. Wanting to be able to sleep out on the trail yet unable to afford camping equipment, he resorted to a more Robinson Crusoe approach to solving the problem.

Bushcraft liberates and empowers. It re-acquaints man with nature and his roots and provides an escape from the shackles of modern life. Bushcraft is about being practical and resourceful. Rather than teach ten things he prefers to teach one which can be put to use in a wide variety of environments. It is not a sentimental retreat into the past, a re-enactment of Aboriginal life, or an exercise in Rambo-style machoism, or a cult-like spiritual experience. He teaches but doesn't preach. He encourages people to open their eyes and see for themselves, to enjoy their own personal sense of wonder and discovery. He is merely a guide, passing on his knowledge.

For this reason Ray Mears is a very popular speaker at corporate and private events. Preferring to adopt a 'pre-dinner' rather than after dinner style of speaking, Ray is highly engaging, humorous and leaves his audience both inspired and motivated.

Ray Mears is perhaps the foremost expert in his field - most certainly the most well travelled; yet people are often surprised to see him rolling up his sleeves and getting stuck in with those that are enjoying Bushcraft for the first time. Nothing pleases him more than to see a student reaching beyond their own expectation of themselves, challenging their own beliefs about the world around them as they see it anew through the eyes of Bushcraft, what Ray calls, "The art of the possible".
Books and DVDs
Below you'll find products by Ray Mears which may be available for purchase. Click the image to view on Amazon's website. Clients often like to purchase books and other merchandise as autographed give-aways at events where Ray Mears is appearing. For bulk purchases, please speak with the Booking Agent handling your event.
You may also be interested in...