Bruce Parry
Former Royal Marine Commando turned expeditioner / documentary maker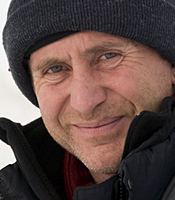 About
Bruce Parry joined the Royal Marines in 1988 and spent six years as a troop commander, where he served as a physical training instructor and was the youngest officer to be in command of all physical aspects of Royal Marine commando training. During this time he served in both Norway and Iraq. It was this experience that prepared him to organize and lead 15 separate expeditions to some of the most remote locations in the world.

Visiting places such as Sumatra, Borneo, Sulawesi, Ceram and Java, bruce worked with scientists and conservationists who were studying tiger, rhino, turtles and the like. He did that for about four or five years before quitting to look for work in the British film industry where he started as a runner and then a location manager working on pop videos, commercials and feature films.

In 1999 Bruce Parry left the film industry and started his first television project which was filmed and directed with a friend, Mark Anstice. They went to Indonesian New Guinea and the film of the expedition was ultimately bought by Steve Robinson of the BBC (who would become the Series Producer of Tribe and now Amazon). Since then he's been lucky enough to have worked on a number of exciting projects including helping to start the hugely successful and multi-award-winning "Serious" series (Serious Jungle and Serious Desert) as well as three series of Tribe (known as Going Tribal in the United States) which is co-produced by the BBC and the Discovery Channel.

Awards for the work he has been involved in include BAFTA's, RTS Best Presenter and many Film Festival Awards.
You may also be interested in...