Steve Leonard
Veterinary surgeon and TV Presenter (Safari Vet School, Orangutan Diaries)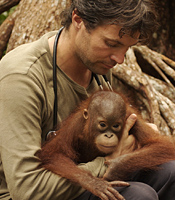 Copyright © Adam Chapman
About
Having first appeared on television when the BBC documented his progression from Vets School to Vets in Practice and Vets in the Wild, Steve Leonard is now firmly established as a popular wildlife presenter and is often described as "TV's best-loved vet"

His series include: ITV's Safari Vet School, Steve Leonard's Ultimate Killers, Steve Leonard's Extreme Animals, Animal Camera and Journey of Life, Jaws in Britain, Orang-utan Diaries filmed in Borneo and the popular Incredible Animal Journeys.

Steve Leonard is a witty and hugely popular speaker, making regular presentations and personal appearances at corporate launches, natural history festivals and charity dinners, as well as for educational organisations.

TV work has made Steve famous as not only one of the country's leading vets, but as an enthusiastic, empathetic and inspirational communicator. His adventures to far-flung places in extreme conditions, alongside his enlightening experiences of animals facing adversity, ensure his presentations inspire and awe his audience.

Steve's series of talks for the Royal Geographical Society have been a national sell-out success. He is patron and speaker for the PDSA, Borneo Orangutan Survival International and the International Fund for Animal Welfare. He is regularly asked to make presentations for zoological societies and universities, as well as for commercial veterinary and wildlife-related companies.

Steve revels in sharing his close encounters with spectacular and exotic species and is much in demand as an entertaining and motivational speaker not only for organisations like the National Geographical Society but also for schools and smaller conservation groups. He is also a fervent supporter and active fundraiser for a number of charities close to his heart, including the PDSA, the UK's largest veterinary charity, Wildlife Vets International, Painted Dog Conservation which helps the survival of African wild dogs and Dog A.I.D. which works with the pets of disabled people.
You may also be interested in...