Rav Wilding
Former Crimewatch presenter and Detective Constable with the Met Police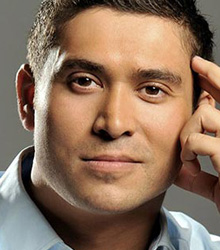 About
Rav Wilding is a Detective Constable with the Metropolitan Police and the co-presenter of BBC1's CrimeWatch.

After secondary school Rav took an apprenticeship in construction before joining the Army at 17. Due to his stature and physical fitness he was selected to undertake parachute training but a broken leg sustained on a training run cut a career in the Airborne unit short and after 4 years he left after medical staff advised him that it would be highly unlikely that his leg would ever be back to full fitness.

On leaving the Army in 1999 Wilding started working at Harrods store in Knightsbridge as part of the security team. After approximately 9 months at Harrods, Wilding's application to join the Metropolitan Police Service was accepted and he started training school.

Wilding joined the Service at the start of 2000 and was posted to Peckham in South London. After two years as a policeman he responded to an advert for people to partake in a jungle adventure, to live for three months in an Australian rain forest for a new television programme on Channel 4 called Eden. After numerous auditions and around 50,000 applicants Wilding was picked for the programme and flew out to New South Wales. After three months in the jungle Wilding returned to Britain and went back to work in the police but this time in to the CID.

Working within the CID, Wilding was posted to units focussing on robbery, burglary and major investigations as well as currently working on a Sapphire unit dealing with rape and sexual assault allegations. He was quickly selected for Detective training and soon became a Detective Constable.

Rav Wilding took a break from the police in 2008 to concentrate on TV Work. He is a popular choice for awards hosting engagements, personal appearances and public speaking on crime, and related subjects.
You may also be interested in...