Peter Jones
Chairman and founder of Phones International and Dragons' Den investor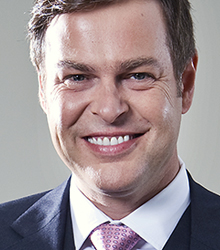 About
Peter Jones, the Chairman and CEO and founder of Phones International Group, knew he wanted to run a multimillion pound business as a schoolboy. And his childhood dream, which he had while sitting at his father's office desk in his Windsor-based air conditioning company, has certainly come true.

Since its formation in April 1998, Phones International Group has experienced explosive growth with expected revenues in excess of £200 million, delivering profits running into several millions at the same time.

At 16, after completing the Lawn Tennis Association's coaching examinations, Jones set up his own coaching school, combining the two school subjects he loved most and in which he excelled: sport and economics. Profit is a recurring feature in Jones' business track record, which should, in time, see him rise to become one of the great entrepreneurs of modern times, according to those who work closest with him.

Jones cites his company's revolutionary distribution model as a major factor in revenue growth, which was £15 million by the end of the first year and £44 million by the end of the second. Seven years on, the company is among the most successful businesses in the UK, having been identified as the 13th fastest growing business within The Sunday Times/Virgin Atlantic UK Fast Track League Table (2003).

In 2005 Peter Jones appeared on BBC2's ground-breaking television series Dragon's Den, which invited would-be entrepreneurs to pitch their ideas to a panel of five 'dragons'. The series made compelling viewing, with audience figures well over three million and has gone on to broadcast several repeat series. In one show, Jones made the memorable and much quoted comment: "You say you're a doctor?... Well, I think you need one." Since then, he has been likened by TV pundits and critics as the business version of TV's Simon Cowell.

Peter Jones is a highly sought-after and engaging speaker popular at conferences, seminars and corporate events.
You may also be interested in...