Patch Adams M.D
Renowned medical doctor and subject of Hollywood blockbuster 'Patch Adams'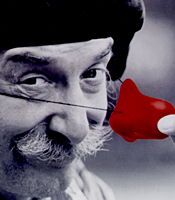 About
Imagine what it would be like to have the REAL man behind the hit movie, Patch Adams come to your school, college or company to share his message of wellness, laughter, humor and his medicine methods.

Imagine the people who he might touch, inspire or alert by meeting and spending time with this extraordinary man. Imagine how you, your community or organisation would be enhanced if the principles of love, joy and caring were embraced by every person. What would it look like? What would it sound like? What would it be like?

All over the world, Patch Adams shares his powerful message on the importance of caring - it's magic. A change agent for peace, love and justice, Patch Adams likes to stir things up and make people think. He infuses compassion, generosity and humor into every audience. Patch Adams is an in-demand and world renowned speaker who draws crowds wherever he goes.

Whenever you hire Patch Adams to speak to your association, group or company, you're helping Gesundheit. Patch's speaking engagements are a major source of financial support for the Gesundheit Institute.
Speech Topics
In his presentations, Patch Adams approaches the issues of personal, community, and global health with zestful exuberance.

Recent Patch Adams keynote speeches and workshop topics include:
Living A Life of Joy
The Joy of Caring
Humor and Health
What Is Your Love Strategy?
Living In Community
Medicine For Fun, Not Funds
Magic Elixirs of Life
Poetry and Music
Passion and Persistence
Desire and Design
You may also be interested in...