Nik Kershaw
80s musician, singer-songwriter, and multi-instrumentalist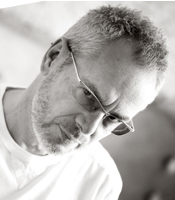 About
Best known for the tracks "I Won't Let the Sun Go Down on Me", "Wouldn't It Be Good" and "The Riddle", Nik Kershaw has been described by Elton John as "the best songwriter of a generation".

In 1984, Nik Kershaw released his breakthrough song, "Wouldn't It Be Good"
which reached No. 4 in the UK charts for five weeks and was a big success worldwide. His debut album "Human Racing" quickly followed and achieved platinum sales and three more Top 20 hits. During this time, Nik toured extensively with his backing band The Krew. Nik's second album "The Riddle" was released later the same year and went on to become another multi-platinum hit record spawning two more UK Top 10 hits, "Wide Boy" and "Don Quixote",

In July 1985, Nik Kershaw was among the performers at Live Aid, held at Wembley Stadium and played the guitar on Elton John's hit single 'Nikita'. He was to record two more albums with MCA before quitting in 1989 to concentrate on song writing. The 90s saw him writing and collaborating with: Chesney Hawkes, Cliff Richard, Bonnie Tyler, Lulu, Ronan Keating, Jason Donovan, Michael W Smith, Connah Reeves, Nick Carter, The Hollies, Colin Blunstone, Imogen Heap, Darius, Gary Barlow and Let Loose.

He has also featured with Tony Banks from Genesis and recorded a self penned duet with Elton John but didn't return to making his own records until 1998 when he released the critically acclaimed "15 Minutes" through Eagle Records. This was followed by the equally well received "To Be Frank" in 2001.

In recent years, Nik has toured the UK & Ireland with other popular 80s acts such as Go West and Carol Decker and performed at numerous 80s revival events and festivals.
Video
Click below to watch video footage of Nik Kershaw. To enquire further about Nik Kershaw for corporate and private bookings, please click here or call us on +44 (0)1372 361 004.
Books and DVDs
Below you'll find products by Nik Kershaw which may be available for purchase. Click the image to view on Amazon's website. Clients often like to purchase books and other merchandise as autographed give-aways at events where Nik Kershaw is appearing. For bulk purchases, please speak with the Booking Agent handling your event.
You may also be interested in...