Go West
80s pop duo, Peter Cox & Richard Drummie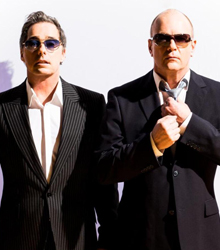 About
One of the greatest songwriting pop duos to emerge in the 80s, Go West sold more than 1.5 million copies of their album "Go West" and remained on the UK chart for 83 weeks.

Formed in 1982, band members Peter Cox and Richard Drummie found international success with the release of their debut single "We Close Our Eyes". The song reached No. 5 on the UK Singles Chart & US Dance Club Play chart and No. 41 on the Billboard Hot 100. The music video, directed by Godley & Creme also became a favourite on MTV and Go West were voted the "Best Newcomers" at the 1986 Brit Awards, the only category voted for by the general public.

After the huge success of their debut album "Go West", their second album "Dancing on the Couch" was released in 1987. The singles 'True Colours', 'I Wanna Hear It From You' and 'The King Is Dead' were all top 30 hits.

In 1990, Go West scored a top 10 US hit with "King of Wishful Thinking", part of the soundtrack to the film "Pretty Woman". The film's soundtrack has sold over 10 million copies worldwide and received ASCAP awards in 1991 and 1992 as one of the most played songs on American radio.

'Aces and Kings', released in 1993, was a greatest hits collection but for the previously unreleased single 'Tracks Of My Tears', a take on Smokey Robinson's Motown classic, which entered the UK top 20. April 2001 saw the release of 'The Best Of Go West – Live At The NEC', a concert recorded during their tour of 1993. This contained all their best-known songs played to a full house in Birmingham, together with two new tracks. Later that year they performed on the 'Here & Now' arena tours of the UK and Australia, together with Paul Young, Kim Wilde, Belinda Carlisle & The Human League.

In recent years, Go West have also toured with other popular 80s acts such as Nik Kershaw and Carol Decker (T'Pau) at concerts and performed extensively at 80s revival festivals. They continue to write, record and perform live. In 2011 they released 'Frame by Frame' a collection of all their videos and '3D' their latest album.
You may also be interested in...